Reviews

Usage example

Description

How To Edit
Slides
Description
Set of editable PowerPoint Chevron Timeline Diagrams to present progress, steps lists and linear processes in a presentation.
The Chevron Diagrams template includes set of modern outline and flat icons you can use to represent specific steps of the process.
This PowerPoint Chevron Diagrams set includes:
14 various horizontal Chevron diagrams, as well as a few vertical chevron flow charts. There are Chevron layouts with 3, 4, 5 and 6 steps. Some steps arrow are split to express parallel events. The diagrams are in two styles, flat filled arrows and and lighter outlined diagram version. The latter is more suitable if you want to print slides.
18 vector icons representing common business concepts such as data collection, analysis, decision, implementation, evaluation, input, output, outcome delivery
predesigned example of problem visualization by Chevron diagrams - Machine Learning process
Format: fully editable vector shapes (modify colors of diagrams and icons, resize without quality loss
What is Chevron chart?
Chevron diagrams are a visual representation of an ordered set of points, expressed by wide arrow shapes. They can be horizontal chevron charts, usually showing a time flow from left to right. In case of vertical chevron charts, they can illustrate to to bottom flow or vice versa, bottom-up flow.
Why to use Chevron diagrams as your presentation visuals?
Using diagram visuals helps to express your presentation in much more engaging way than using only a text on a slide. If you have any linear process that contains some kind of steps, then Chevron arrows are a visualization tool to consider.
Chevron diagrams are fast to modify, add text inside circles or replace icons. On last slides you have set of several icons you can reuse or you can extend the icon collection by getting PPT icon set bundles (see Related Diagrams section).
Colors of these diagram shapes and icons are fully editable (all graphics is a vector format). So you can change them to colors of your template or company brand.
How you can use the Chevron Diagrams Template?
Express timelines of a business strategy milestones.
Make visual presentation agenda. You can copy the diagram and use it also as section slides - just highlight the current section and make other sections grey.
Present progress steps of a project plan, ending in final deliverable or a product.
Illustrate sequence of actions e.g. corporate procedures or IT data flows
Replace bullet point lists if they express an ordered set of points.
Draw a Systems flowcharts how information flows from input, via several data processing steps towards final output.
Express a linear direction, a movement forward, passing several stages. Stages can have a subpoints - expressed by split chevron arrows.
Fully editable in PowerPoint set of vector shapes fully editable by using built-in PowerPoint tools, including
changing color of the icon filling and its outline
adding shadows
changing shape and size, rotating, flipping the object
putting shapes behind or on top of text
See editing demonstration in
our HowTo Videos
.
Authors
infoDiagram's designer
Contact: here
Slides included in this PowerPoint Presentation:
How To Edit
How to edit text & colors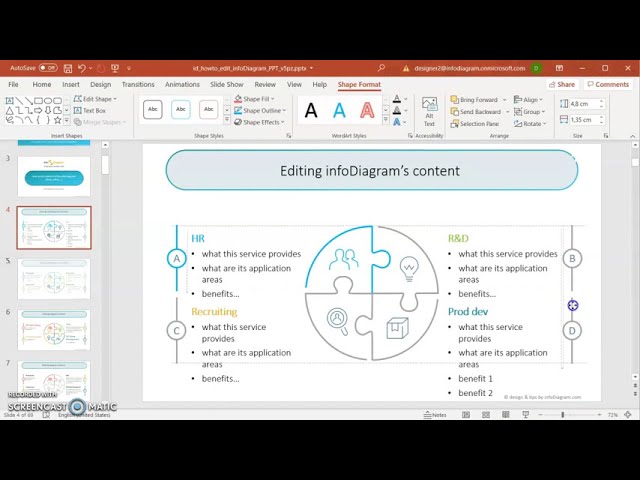 How to expand / shorten diagram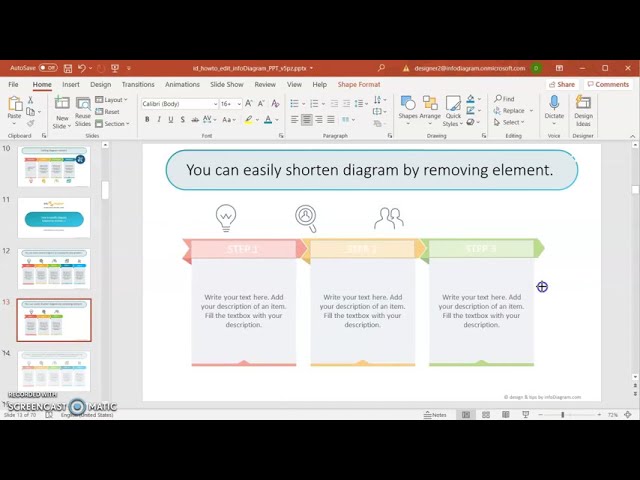 How to Replace Icons in infoDiagram PPT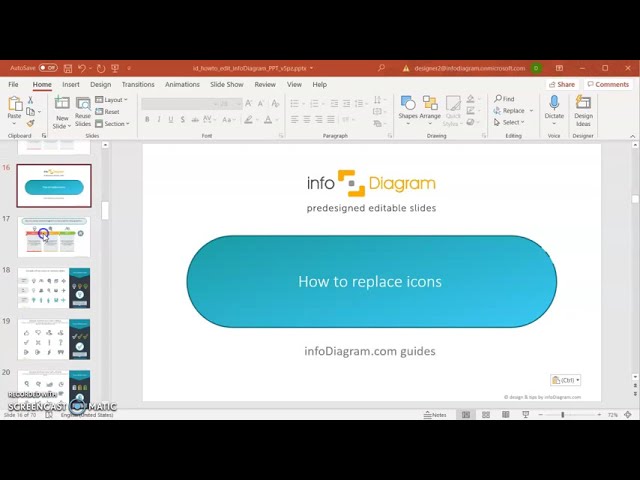 Chevron Timeline Diagrams Template (PPT graphics)