Reviews

Usage example

Description

How To Edit
Slides
Description
PPT Template with graphics for creating Call-to-Action buttons inside PowerPoint. This template includes:
14 CTA buttons of various shapes and colors (creative watercolor banners, flat stripes, arrows, ribbons)
14 action icons representing approval, click sign, shopping cart, contact symbols, OK sign, award, trophy, certificate, partnership handshake, growth, product box
fully editable shapes and vector symbols (text, color, size)
Content:
Call to Action Buttons and Symbols Presentation Visuals
Every good presentation should lead to some change. Put this desired change action at the end of your presentation, so your audience will see it "black on white". Define clearly the next step for them. Don't let the most important part of your talk be lost. Let it stand out and using vivid CTA button can help you get a response from your listeners.
What is a Call-to-Action?
In marketing, a call to action (CTA) is a text or graphical button designed to provoke an immediate response by a presentation audience, an article reader or a your website visitor. Crafting a good Call to action phrase and properly presenting it is a pretty important for a presentation creator, whether the person is a meeting manager and a marketer. That's why we wanted to help and provide you some design ideas you can reuse.
Our collection of pre-designed shapes and icons for MS PowerPoint will allow you to design your own call-to-actions messages for your PowerPoint slides or other marketing materials (just export it from PPT).
The deck consists of 13 slide layouts, 21 flat business symbols and 4 infographics diagrams. Call-to-Action buttons template includes 14 ready-to-use CTA buttons of various shapes and action icons: to illustrate evaluation, finance, analysis, strategy, resources.
CTA template will help you to design your own creative call to action button, with your text. For example, the artistic looking watercolor, if you want to catch the listeners' attention. These PowerPoint graphics set allows you to make action button quickly and save it as an image. Such image can be added to a Facebook page or to your website to encourage people to like or follow your webpage. You can customize the call-to-action buttons by adding your text or replacing icons. Colors can be changed too, if you want to replace e.g. green with orange or your brand color.
Here are some ideas for classical call to action phrases and action icons:
"Sign-up now" fresh green button and an icon of a document;
"Buy today" with energyfull orange and shopping cart symbol;
"Register today" phrase for online courses registration with vivid yellow button and symbol;
"Learn more" button;
"Download now", "Order now", "Subscribe today", "Talk to us".
If you want to use the more powerful call to action phrases, consider those:
"Get the premium product" phrase for getting new version of the product;
"Click to get started"- call to action phrase that intended to provoke to continue work with your resources;
"Stop XYZ problem" - phrase that grabs leads attention and help to resolve a problem;
"Build professional website", "build a landing page now", "build [desired outcome phrases]" - call to action expressions that useful for training websites and courses;
"Tricks how to use this idea" - creative button to capture the main benefits of the process;
"Grow your profits", "Grow your business", "Grow your leads" - phrases for online courses and webinars;
"Give it a try" - call to action button that handy for motivation webpage;
"Send me a sample"- example of button which can be useful for recruiting company;
"Read a free chapter" - the phrase that will be handy for blogs or webinars.
Call to Action Buttons bundle will help you create graphics to motivate your listeners.You can use it for your personal or business presentations, education and webinars.
See guide how to export buttons or any other graphics to the image, that you can use later in any other application (ebook, Facebook, Wordpress site, Webpage, Ad banner). Do Design a creative call to action button - use watercolor ribbons from the PPT collection.
All shapes can be edited using PowerPoint set of vector shapes fully editable by using built-in PPT tools, including
changing color of the icon filling and its outline
adding shadows
changing shape and size, rotating, flipping the object
putting shapes behind or on top of chart
See editing demonstration in
our HowTo Videos
.
Authors
Slides included in this PowerPoint Presentation:
How To Edit
How to edit text & colors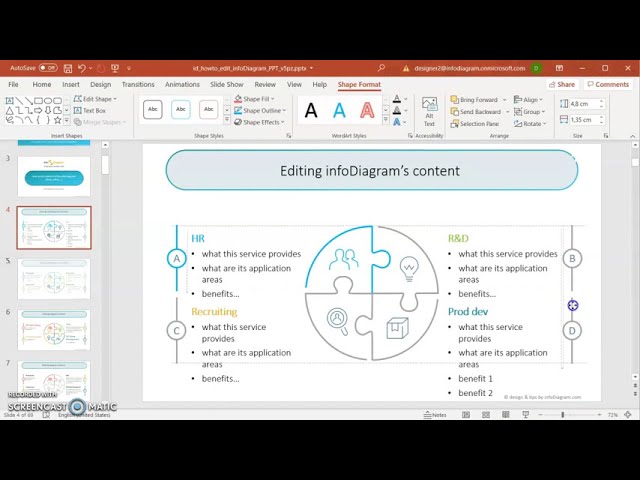 How to expand / shorten diagram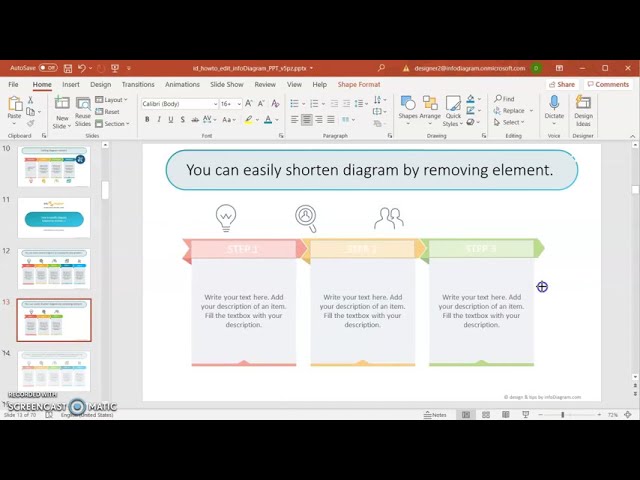 How to Replace Icons in infoDiagram PPT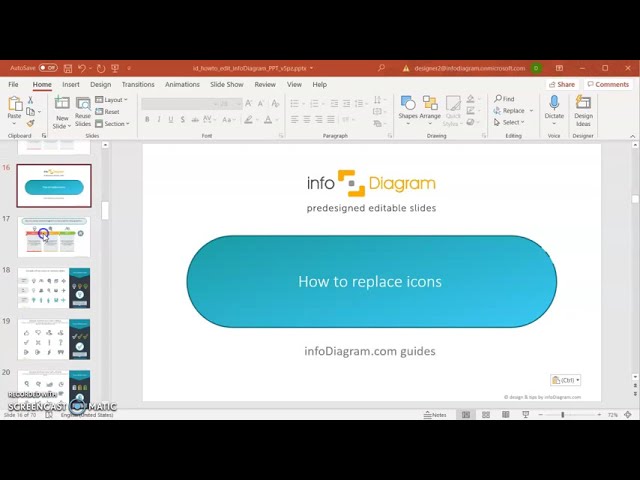 Call to Action Buttons (PPT graphics)