Reviews

Usage example

Description

How To Edit
Slides
Description
Do you need to prepare a post-covid-19 business recovery plan that includes a response, adaptation, and thrive stages? Use our pre-design post-pandemic recovery template deck that incorporates key business challenges and trends and present your strategy in a clear, informative, and visually appealing manner.
This Post-Pandemic Recovery Plan Presentation PowerPoint template contains visual slides with:
32 diagram slides to illustrate the Business roadmap to overcome the post-pandemic crisis, respond, recover and thrive phases, focus areas, and more.
To ensure a professional look, the presentation is designed in a modern flat graphics style.
71 outline topic-specific icons to express related concepts visually e.g. digital strategy, planning, processes, structure, and much more.
Instruction on how to modify those diagrams using standard PowerPoint editing tools.
Format: fully editable vector shapes (modify colors of diagrams and icons, resize without quality loss).
Authors of this Post Pandemic Business Recovery Plan PowerPoint Template
What is a business recovery?
Post Covid-19 Business Recovery Plan is a 3 stages strategy on how to deal with a sudden emergency situation, causing massive business disruption, how to adapt to new business context, customers behaviors, new market dynamics, and ultimately how to reshape the ways of working for the future through reorganizing and building flexibility into business models being open to evolving world.
Why use Post-Pandemic Business Recovery Plan diagrams?
If you need to present your plan on how to overcome the pandemic crisis in a simple and understandable way to your key stakeholders, use our templates that will help you to present them in an eye-catching and attractive format. Make your ideas easy to understand by using graphs and infographic elements, and tailor them to your needs in order to upgrade your presentation slides. Design flowcharts of your projects and use pre-design project templates that offer space for your tactics, actions, and expected deliverables. We include detailed instruction on how to alter the content, values, colors, and look and feel of the charts.
Where can you use Post-Pandemic Business Recovery Plan graphics?
Using infographics and chart graphs will help you organize information and present your ideas in a good-looking.
Using infographics and chart graphs will help you organize information and present your ideas in a good-looking.
Explain 3 phases of your business reaction to overcome covid-19 crisis from survival mode to a long-term prosperity stage
Present your gap performance analysis and contingency plans undertaken in order to ensure business continuity
Describe your mid-term governance of change in a challenge-to-solution diagram
Address the necessary focus areas and steps to be taken in order to reshape your current business to the next normal
Use ready to be filled in implementation diagrams and projects templates for each of the areas you want to present
Visualize your digitalization and automatization strategy in a transformation diagram covering areas such as technology, business model, and cybersecurity
Illustrate your remotization transformation in a diagram that contains such areas as digital co-working, contact-free consumer patterns, and suburbs revitalization
Summarize your digital co-working success elements in a 4-column table
Explain resilience, agility, responsibility, and sustainability terms in the understanding and terminology of your company
Present your resilience and agility opportunities in a 3 elements diagram
Design your data-driven decision-making model in a process flowchart format using appealing icons
Show your approach to responsibility and sustainability in a 3 elements diagram embracing 3 top trends: circular economy, triple bottom line, corporate social responsibility
Illustrate the circular economy model in a 5 steps diagram
Visualize the triple bottom line idea in 3 interconnected elements of the Euler diagram
Try using those PowerPoint illustrations to present your content visually in an elegant way.
All graphics are editable, so you can modify the colors and text. We also added a general icon collection at the end of the presentation deck. Optionally you can also extend the collection by more PPT symbols (see Related Diagrams section).
Fully editable in PowerPoint set of vector shapes fully editable by using built-in PowerPoint tools, including
change the color of all shapes filling and their outline, including icons
adding shadows
changing shape and size, rotating, flipping the object
putting shapes behind or on top of text
Slides included in this PowerPoint Presentation:
How To Edit
How to edit text & colors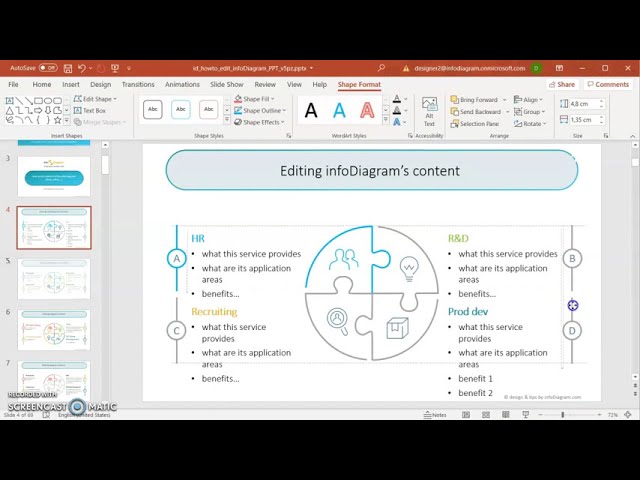 How to expand / shorten diagram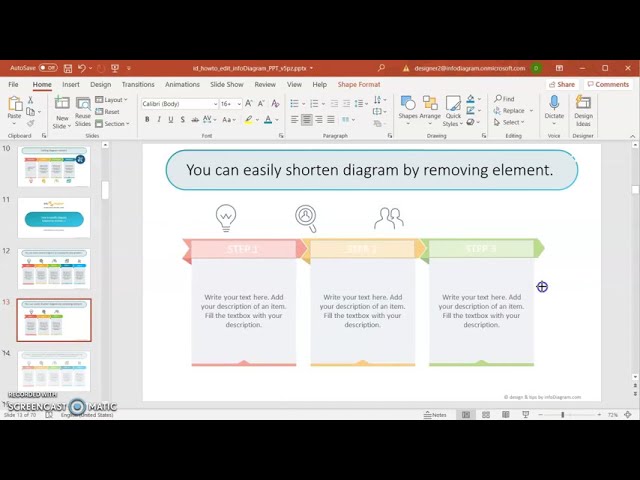 How to Replace Icons in infoDiagram PPT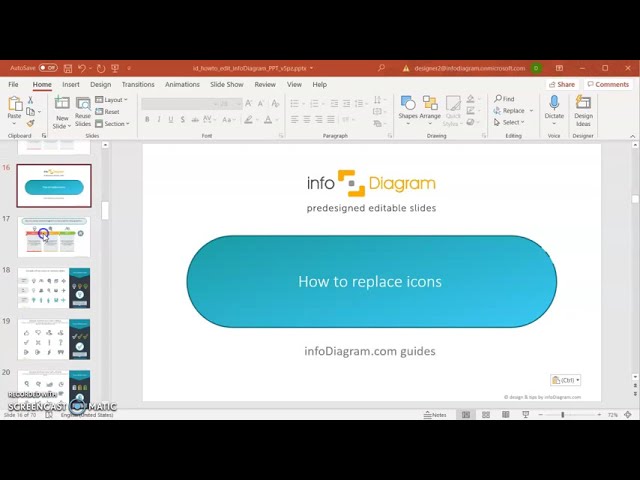 Post Pandemic Business Recovery Plan (PPT Template)