Reviews

Usage example

Description

How To Edit
Slides
Description
Present Bridging the Gap concept by using bridge diagrams as a visual metaphor.
To help you to express this idea of connecting two edges, we have designed this editable bridge infographic. It contains modern flat illustrations of bridges and viaduct images.
Show the transition between the current state and the desired one. Express gap analysis visually, animate history timeline with milestone pillars, present a path of bridging the gap between customer needs and company offering.
The content of the Bridge graphics and Bridging the Gap Diagrams PowerPoint Template includes:
18 modern flat infographics charts with picture backgrounds and iconography
two graphical styles to choose from: strong flat design or light elegant outline bridge shapes and icons
32 vector icons in a total of flat and outlined style, representing concepts such as Positive, Neutral, Negative status, Vision, Client, Challenge, organization, Start, End Stop, Hazard, and Question Mark
instruction how to modify those diagrams using PowerPoint editing tools
Format: fully editable vector shapes (modify colors of diagrams and icons, resize without quality loss
What's the Bridging the Gap concept?
This concept is coming from business analytic's Gap Analysis, that evaluated current state, desired one and identifies what's needed to bridge the gap between those states. The gap can be expressed by a data chart, in case you can measure specific states characteristics. Or bridging the gap can be presented in a descriptive way, if it concerns qualitative measures expressed.
When to use Bridge the Gap metaphor? Usage examples:
Use bridge graphics as a metaphor to show the transition between two situations, e.g. from the current state to the desired goal.
Illustrate Gap Analysis & planned steps from today's company strategy to desired outcome.
Present Bridge's Transition Model
Visually show link between problem and solution
Express Moving On concept from Kübler-Ross Model
Show project milestones as a pillars of segmented bridge
Illustrate connection between two edge situations by platform viaduct infographics
Make animated company history timeline, showing slides with milestone bridge pillars
Draw a map with path of bridging the gap between customer needs and company offering, overcoming river of obstacles on a way
Why to use those bridge diagrams in your presentation?
Using visuals makes your presentation more eye-catching and remembered that a plain text slide.
Adding subtle animations and icons representing your statuses helps the audience to stay focused on your message.
Check icon collection at the end of the presentation slide deck. We created there a set of practical business symbols. Optionally you can extend the collection by more extensive PPT icon set (see Related Diagrams section).
You can edit text descriptions, bridge stages, colors of all illustrations and replace icons (all graphics is a vector format). Photographs are included in the template but feel free to replace them by pictures of your own.
Content description
Bridge and Gap diagram contains ready-to-use slides:
Gap analysis slide example: from current to the desired state illustrated with bridge graphics and text placeholders with emotions icons;
Bridge transition model with outline graphics and text placeholders for each stage: ending, transition, new beginning;
Bridging the gap between clients and company shown with outlined map graphics;
Kubler-Ross model example with five items colorful diagram and outline icons on a picture background;
Four segments bridge diagram with text description in two styles: flat and outline;
Transition bridge from current strategies to future outlook on a picture background with semi-transparent text placeholders;
Three-step process template with viaduct picture background, text description, and outline icons;
Colorful bridge platform connecting edges with text description for each item: situation A, connecting, situation B;
Current, approaching and future state illustrated with bridge graphics in two versions: with flat and outline icons;
Three steps transition process shown with outline bridge and description in two versions: on a light and dark background;
Three steps process shown with outline bridge and text placeholders with bullet points;
Bridge animated timeline illustrated with colorful bridge graphics in three versions: "Where we start", "Where we are now", "What's our future?";
Bridging the gap between company and customers with river map concept illustration;
Bridge crossing the river for showing current challenge and desired state.
Fully editable in PowerPoint
set of vector shapes fully editable by using built-in PowerPoint tools, including
changing color of all shapes filling and its outline, including icons
adding shadows
changing shape and size, rotating, flipping the object
putting shapes behind or on top of text
See editing demonstration in
our HowTo Videos
.
Authors
infoDiagram's designer
Contact: here
Slides included in this PowerPoint Presentation:
How To Edit
How to edit text & colors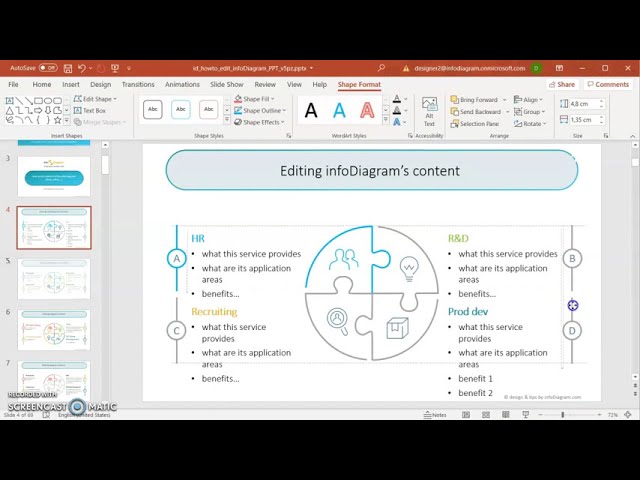 How to expand / shorten diagram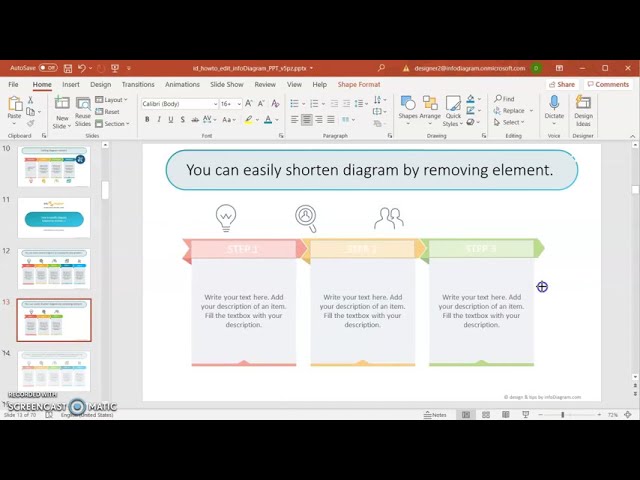 How to Replace Icons in infoDiagram PPT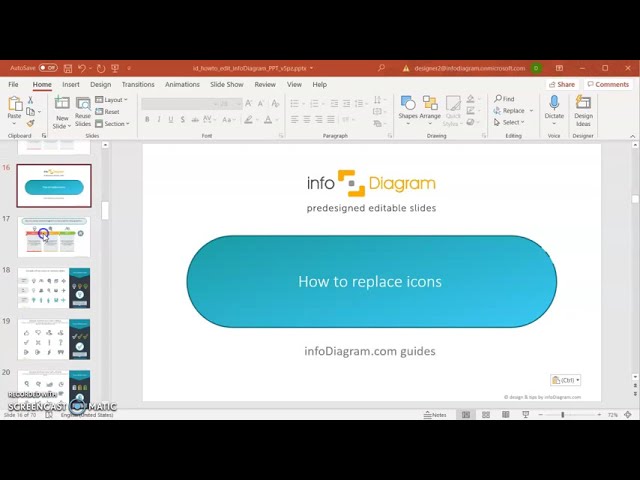 Bridge & Gap Graphics Template (PPT Diagrams)