Reviews

Usage example

Description

How To Edit
Slides
Description
Presentation template for explaining block chain technology with fully PowerPoint editable graphics. Use these diagram graphs and slide layouts to illustrate blochchain presentation documents and training tutorials. You can find and reuse any slides when defining blockchain technology, presenting what is distributed ledger, block structure, benefits and applications of blockchain in various industries.
What is included in blockchain template deck:
22 modern flat diagrams of blockchain structures and processes, 5 key forces of block chain and its pros versus cons. We designed illuatrations of all three network types - centralized system, decentralized and distributed computer network diagram.
56 vector icons in universal flat style and various colors. Add or modify these symbols to illustrate elements such as hash, data document, computer servers, network topology, system input and output, net broadcast, security, cryptography, users, teams, partnerships, smart devices, finance, banking, healthcare and other business sectors.
Format: fully editable PPT vector shapes (modify colors of diagrams and icons, resize without quality loss
What is BlockChain? Diagrams for blockchain presentations cover those topics

Definition of Blockchain - slide template for presenting what is block chain.
Process diagram how blockchain works - as 6 steps flow chart in form of roadmap or zig zag timeline
Slide explaining what is the block structure, including data and hash codes
5 Key Forces of blockchain illustration, from establishing a reputation system, micrometering, P2P transactions, dynamic pricing to enabling smart contracts
Blockchain Benefits list diagram with budget item, security, velocity, globalization, Irreversibly and anonymity.
Blockchain Applications areas presentation slide covering cryptocurrencies (e.g. Bitcoin, Ethereum, Dash), banking, healthcare, insurance, trade finance or Internet of Things
Pros and Cons of Blockchain comparing immutability, reliability, transparency, transaction costs, transaction throughput, performance and control
3 Networks topology comparison: centralized, decentralized and distributed.
Distributed Ledger Network versus centralized ledger

How to use blockchain diagrams as your presentation visuals? Simply copy one of diagrams into your presentation, to illustrate your slides or other materials by quick to read visuals. You can modify each shape color, add text descriptions or replace symbols.
Why to use diagram visuals as your presentation illustrations?
Using diagrams helps to express the main principles of blockchain technology in a clear and eye-catching way.
On last slides, you can find over 50 icons you can use, too. You can extend the icon collection by getting additional PPT icons (see Related Diagrams section).
Colors of these diagram shapes and icons are fully editable (all graphics is a vector format). So you can change them to colors of your template or company brand.
Content description
Blockchain Presentation Diagrams contains ready-to-use slides:
Content of blockchain diagrams slide deck.
Graphics for Defining the Concept of Blockchain.
Block structure slide illustrated with outline graphics and text placeholder.
Blockchain technology timeline illustrated with zigzag graphics and outline icons.
Blockchain technology roadmap for explaining how the system works: illustrated with a curved arrow, flat icons and description to each stage.
Block structure shown with vivid graphics and text placeholders.
Five key forces of blockchain technology in two versions: star diagram with outline icons, list chart with flat symbols and description to each element.
Blockchain benefits slide in two versions: list chart with outline icons and text placeholder to each item, column list with a text description.
Blockchain application areas slide in two versions: list diagram with outline icons and text description, multicolor honeycomb layout with icons.
Blockchain pros and cons comparison layout illustrated with icons and text placeholders.
Network types comparison slide: centralized, decentralized, distributed networks.
Centralized, decentralized and distributed network slides illustrated in two versions: system graphics with text description, computers illustration scheme with text placeholder.
Comparison of a distributed ledger and centralized ledger networks illustrated with outline graphics and a short description.
Blockchain network scheme for the cryptocurrency illustrated with flat icons.
Distributed network illustrated with an outline scheme with icons.
Fully editable in PowerPoint set of vector shapes fully editable by using built-in PowerPoint tools, including
changing color of the icon filling and its outline
changing shape and size, rotating, flipping the object
relocating and resizing diagrams, putting shapes behind or on top of text
See editing demonstration in
our How-To Videos
.
Further resources on blockchain
Authors
infoDiagram's designer
Contact: here
Blockchain Know-how: Andrea Caputo, Blockchain Product Manager, MBA (LinkedIn contact)
Slides included in this PowerPoint Presentation:
How To Edit
How to edit text & colors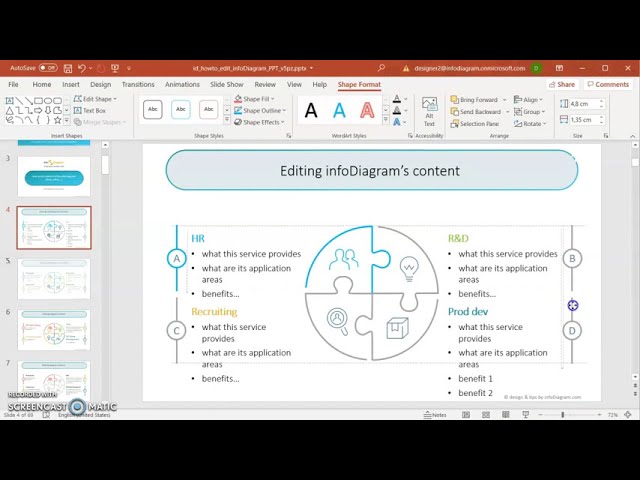 How to expand / shorten diagram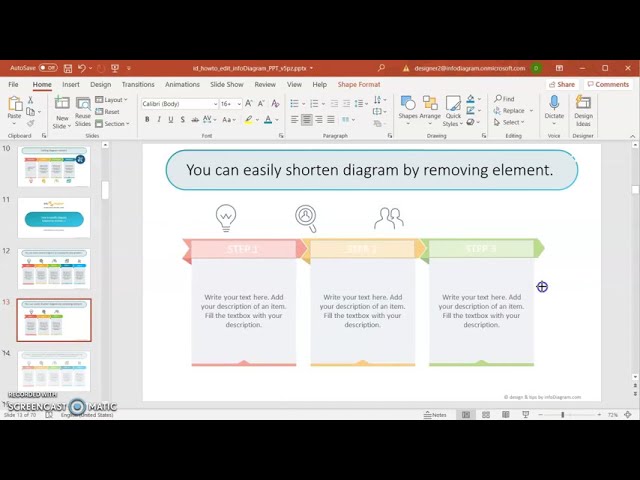 How to Replace Icons in infoDiagram PPT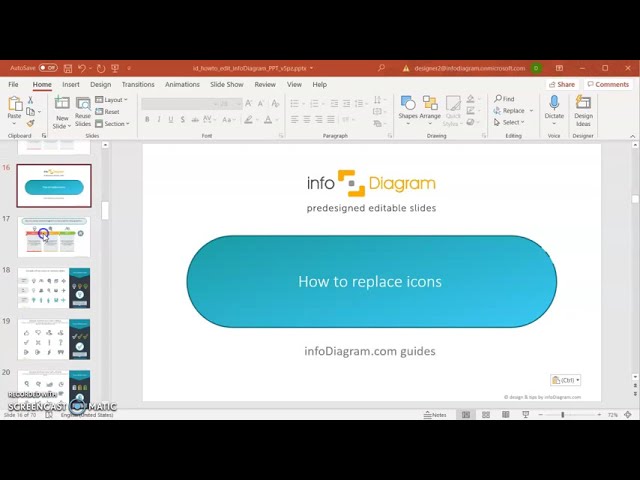 Blockchain Presentation Diagrams (PPT Template)