infoDiagram >
Activity Based Costing Accounting Charts (PPT Template)
Reviews

Usage example

Description

How To Edit
Slides
Description
Do you need to explain what is Activity Based Costing method? Use the visual presentation deck we designed for presenting ABC accounting terms, processes and table charts.
The ABC accounting model PowerPoint template includes
10 graphical charts for presenting agenda, Activity Based Costing definition, comparison with traditional accounting, cost drivers and activity costs table chart
17 icons to illustrate accounting terms such as Resource Driver, Direct and Indirect Costs, Activity Drivers, statuses.
Format: fully editable vector shapes (modify colors of diagrams and icons, resize without quality loss
What is ABC Accounting Model?
A costing method that identifies activities in an organization and assigns the cost of each activity to all products and services according to the actual consumption by each. ABC model assigns more indirect costs (overhead) into direct costs than a traditional costing method (definition based on Wikipedia).
Why to use this visual template?
Ensure a professional corporate look and clear information structure. We added light illustrations for key terms in the report to make it easier to read. The photographs in slides background create the look of the representative document, not only plain presentation.
On the last part of this deck, we added a set of icons you can use instead of icons in slide examples. You can extend these symbols icon collection by getting more flat business icons (see Related Diagrams section).
Colors of all text placeholders, text graphics and icons are fully editable (all graphics is a vector format). So you can change them to colors of your template or company brand.
ABC presentation template content description
This PowerPoint visuals deck contains over 16 slides with
Definition of ABC accounting model & key terms
ABC vs. Traditional Methods comparison diagrams
Flowchart explaining How ABC works
ABC Process Steps chart
Direct & Indirect Costs explanation
Types of Cost Drivers diagram
Activity Based Costing Table Template
Full content description
Activity Based Costing Accounting deck contains ready-to-use slides:
Activity-based costing presentation deck content with icons;
Activity-based costing definition shown with text placeholder with filling and icons;
Ativity-Based costing key terms shown with colorful list and icons for each item: activity, activity driver, resource, resource driver, cost object;
Ativity-Based costing versus traditional method shown with colorful scheme and icons;
ABC advantages and disadvantages comparison list diagram with colorful symbols;
Activity-Based costing processes illustrated with colorful flowchart and icons;
Activity-Based costing implementation steps diagram with visualization of each step: identify activity, assign cost to cost pool, identify cost driver, assign cost to products;
Direct and Indirect costs definition diagram with text placeholders and icons;
Cost driver types diagram shown with list description for each item: physical drivers, duration drivers, frequency drivers;
Activity-based costing content table with colorful icons and rows with filling.
Fully editable in PowerPoint set of vector shapes fully editable by using built-in PowerPoint tools, including
changing color of the icon filling and its outline
adding shadows
changing shape and size, rotating, flipping the object
putting shapes behind or on top of text
See editing demonstration in
our HowTo Videos
.
Authors
infoDiagram's designer
Contact: here
Slides included in this PowerPoint Presentation:
How To Edit
How to edit text & colors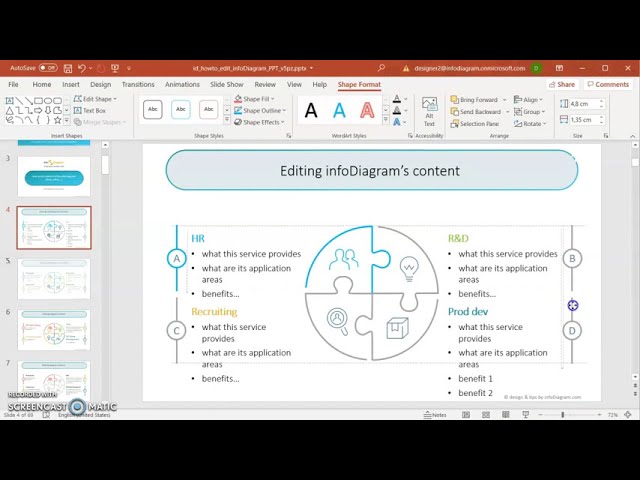 How to expand / shorten diagram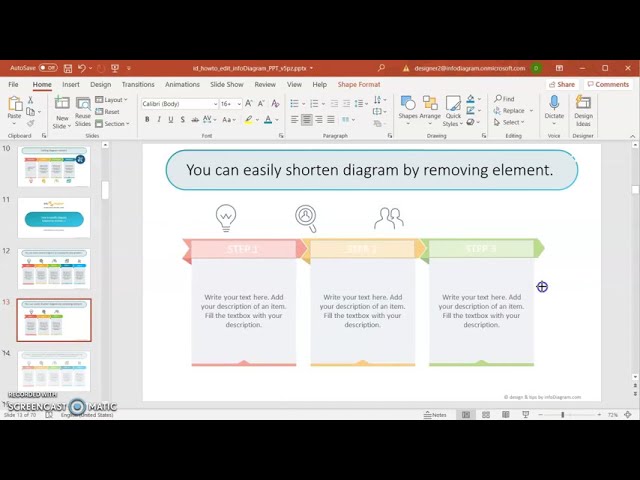 How to Replace Icons in infoDiagram PPT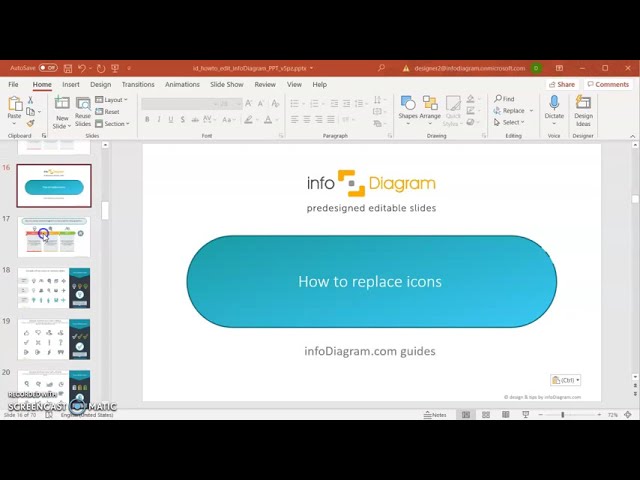 Activity Based Costing Accounting Charts (PPT Template)