Reviews

Usage example

Description

How To Edit
Slides
Description
Do you want to make your slides readable and distinguishable? Use simple yet modern graphics to replace text bullet points. Apply diagrams to show structures and dependencies visually. Add flow charts to illustrate timelines and procedures. We have designed this comprehensive premium graphics collection of presentation visuals that you can quickly modify in PowerPoint. Diagrams cover various types of information - be it a list, procedure, map, KPI data, or hierarchy.
This Premium slide deck contains hundreds of PowerPoint layouts including:
225 diagrams for presenting all basic diagram types (lists, structures, hierarchies), data charts, tables, maps, business concepts, and visual metaphors. You can find their layout templates for comparisons, organizational structures, list enumerations, branching arrows, cycles, funnels, roadmaps, matrices or puzzle graphics.
Universal style of all graphics - simple flat fill that is modern, clear, and strongly visual.
92 icons in two styles - outline symbols for a light elegant feel and simple flat symbols that are well recognizable also when icons are small. Icons cover general business concepts such as Strategy & Processes pictures - e.g. Brain, Thinking, Thought Exchange, Feedback, Research, Product box, Status Indicators, Achievements, and various people silhouettes.
Instruction on how to modify those diagrams and icons using standard PowerPoint editing tools.
Format: fully editable vector shapes (modify colors of diagrams and icons, resize without quality loss)
What is a diagram?
Diagrams are a form of visualizing qualitative information by simple shapes (arrows, rectangles, circles). Diagram expresses relations such as dependency, inclusion, hierarchy, and symbolic location of concepts. Examples are Venn diagrams - overlapping circles that show common parts on various concepts; flow charts representing stages, or abstract maps expressing organization hierarchy.
Where you can use the diagram visuals?
You can use diagram shapes for pretty much every type of content - listing, sequencing information, and showing relationships among objects. Besides the presentation graphics, the same diagrams can be used in text documents, reports, or as part of datasheet illustrations. InfoDiagram graphics can be imported to Word, Excel, Google Docs, or Keynote as well. Here are some examples of where you can apply those diagrams:
Replace text bullet-point list of features with list diagram
Present visually the steps of a process or plan.
Express synergy between solutions - show common interest areas as overlapping parts of the Venn diagram
Visualize the history timeline in a chevron arrows diagram.
Represent financial data by infographics data charts.
Make your tables look more attractive by applying table column and row graphics
Present the product strategy roadmap with an infographics picture.
Compare the pluses and minuses of several product options.
Illustrate business concepts such as a company vision, and gap analysis bridge.
Modern Flat Ultimate Diagrams collection contains ready-to-use graphics dedicated to the following topics:
Enumerations diagrams and ordered lists:
List diagram for four columns with headers
Modern lightbulb list diagram for four elements
List of four elements with paint brush stroke header
Left-right list for four items with description boxes
Flat 3D box list diagram for five elements
Five elements enumeration with textboxes
Five columns list infographics with longer descriptions
Lock and keyhole infographic for six points with icons
Paint buckets diagram with a list of six elements
Vertical process diagram with gears for six elements
Hexagon list diagram with the main header for six elements
Flat arrows list of six elements
Big items list template for six elements
Flat ribbon vertical list diagram for six items and commentary box
Hexagon points two column list for seven elements
Flat circle strip list for eight items and two rows
Pointy rectangles list for ten items and two rows
Squares mosaic diagram slide
Flat ribbon comparison list for twelve items and two columns
Honeycomb list diagram for fourteen elements
Agenda and TOC templates:
Agenda template with photo
Agenda bullet points template with side graphics
Table of content template for text bullet points
Long agenda list template with two-column bullet points
Comparisons diagrams slide:
Scales comparison diagram for five elements
Comparison diagram with two textboxes: growth versus costs symbols
Two categories comparison: product cost vs innovation
Pluses versus minuses: evaluation slide
Ups and downs depicted with hourglass diagram
Double balance diagram of pros and cons
Content comparison table with three and four columns with checkmarks
Comparing two items with double-column graphics
Structures diagrams and key terms listings:
Key terms list for six category elements with explanation box
Two pillars with roof ancient structure diagram
Five pillars infographics diagram
Single pillar diagram with detail description
Double return flow interaction diagram with six items
Venn diagrams for intersection and synergy:
Venn diagram template with two intersecting circles
Three overlapping circles intersections with Venn diagram
Venn diagram template for three circles
Three items synergy diagram with description boxes
Three combined items diagram with description box
Three intersections focus depicted with Venn diagram
Venn diagram for four and five circles with textboxes
Fan intersection diagram for four and six elements
Central list diagrams:
Head graphics diagram
Circle diagram for three elements
Circle diagram for three elements with comment box
Central orbits and satellites infographics
Four components circular diagram
Shutter circle fragments diagram for four phases
Central flat banners list diagram for 4+1 items
Four categories diamond diagram
Central puzzle diagram for 4+1 items
Jigsaw puzzle diagram for five items with commentary field
Orbit diagram with planets and moon suborbit
Orbit shape centric circles illustration for five elements
Pentagon star circular diagram with five segments
Shutter circle fragments diagram for six phases
Idea analysis flat mind map slide
Central two column list infographics
Teardrop shape centric diagram for six items with description
Teardrop shape centric diagram for six items
Solar system-like orbit infographics for six items
Shutter circle fragments diagram for eight phases
Pizza circle diagram for eight items
Matrix diagrams:
Two dimension square ribbon matrix
Colorful simple 2 x 2 matrix graphics
Simple matrix diagram with text description
Gear matrix diagram with four numbered elements
Comparing four ideas on segmented light bulb graphics
Key shape graphic for four synergic elements
Puzzle matrix square for two-column layout
Butterfly matrix graphics for four items
3D boxes 2x2 matrix infographics
Complementary matrix layout with circle jigsaw puzzle
Puzzle shapes diagrams for integrity:
Three-puzzle circle diagram
Three-puzzle triangle diagram
Four-puzzle circle quadrants diagram
Four-pieces closed puzzle square diagram
Four-pieces puzzle rectangle diagram
Four-puzzle closed jigsaw pieces diamond diagram
Four and six open jigsaw puzzle shape diamond diagram
Closed set of nine puzzle pieces: completeness diagram
Hierarchy diagrams and layers:
Circle layered diagram for three elements
Hierarchy of three elements depicted with 3D cubes pyramid
Sphere central layers diagram slide with four levels
Dartboard layers graphics with four text fields
3D stack cascaded layers diagram
Multi-level creative pyramid with four layers
Iceberg infographics template slide
3D blocks pyramid with five levels
Pyramid for five layers with flat 3D effect
Six layers category descriptions pyramid
3D layers list diagram with eight items
Branching flow diagrams:
Core, tree trunk, and five branches list infographics
Triple branching arrow diagram
Quintuple output block arrow diagram
Pipe flow diagram fork out into five outputs
Pipe converging diagram for five inputs into output
Horizontal arrows with splitting to five items
Branching out tree arrows diagram
Org charts and hierarchy decision tree diagrams:
Flat ribbon organizational chart template
Horizontal chevrons organizational structure chart
Organizational matrix chart: horizontal projects
Organizational matrix chart: vertical projects
Matrix structure organizational chart projects and company departments
Horizontal decision tree flow chart with data values and status marks
Horizontal distribution tree diagram
Vertical decision tree flowchart
Target customer segmentation tree template
Process steps and chevron sequence diagrams:
Simple chevron diagram with split three steps arrow
Four steps diagram
Chevron process three items diagram with outcome
Process flow chevron diagram for four steps
Process chevron diagram with input-output four steps arrow
List diagram with flat spacecraft picture for four phases
Rocket launch vertical timeline with four steps
Development chart
Four growth stages diagram
Progress stages diagram
Development timeline diagram
Downwards spring shape slide for four steps
Chevron steps diagram for five escalating levels
Gears timeline layout
Spring spiral infographics for five items
Iterative workflow chart for five stages
Waterfall chart template
Decreasing levels ribbon list diagram
Process breakup chevron diagram for five stages
Stairs diagram with arrow steps for six and seven levels
2D bricks increasing list diagram for seven steps
Cause and effect Ishikawa flowchart
Cycle diagrams and loop flow charts:
Three stages cycle diagram
Four elements loop
Quarters circle diagram template
Four steps arrow circle cycle template
Five stages cycle diagram with description
Five phases loop chart graphics
Circular chevron ring with five items
Five and six steps arrow circle cycle template with icons
Six steps development list with archimedean spiral drawing
Seven steps arrow circle cycle template
Snake shape diagram for six steps
Double loop diagram for seven elements
Funnels and filter diagrams:
Vertical elements filtration model for four layers
Circular filters diagram for four levels
Sales funnel diagram: lead to client filtering
Horizontal filtration diagram for five stages
Vertical tube filtration diagram for five layers
Top down selection funnel
Horizontal tube filtration model diagram for five levels
Vertical layered density filtration diagram for six layers
Top to bottom-funnel with six levels
Downward cylinder funnel diagram
Timeline diagrams:
Timeline puzzle series diagram
Yearly events plan timeline
Next actions six months plan calendar
Year plan calendar with twelve months textboxes
Quarters timeline with callouts
Extended double line timeline
Development history timeline
Airplane flight trajectory graphics timeline
Zigzag chain timeline for six items
Eight steps timeline with horizontal rocket trajectory
Timeline arrow with key graphics for eight items
Straight road timeline of projects history and plan
Roadmaps and pipe flow charts:
Long-term plan timeline roadmap
Curvy journey line with business strategy milestones and vision
Strategy roadmap objectives and target timeline
Four project roadmap infographics snake shape
How it works roadmap for six steps guide
Curvy conveyor belt line diagram for five stages
Assembly line with four production steps
Five stages process roadmap with cogs mechanics illustration
Vertical pipeline graphics monthly timeline
Pipe roadmap: horizontal six steps flowchart
KPI list diagrams: key data charts:
Creative KPI Data-driven column chart
Horizontal progress bar indicators
Four KPI bar chart graphics
Four categories data percentage charts
Four key focus data index dashboard
Building blocks percentage matrix infographics
Iconographic chart with people icons
Budget spending infographics example
Product purchasing data infographics
Table graphics:
Table chart template for activity-based costing content
Product development roadmap table
3-5 year roadmap table template with summary
Project status table with RAG traffic light indicators
Projects status table with Harvey balls
Projects status table with OK/Not OK/Warning sign
Four-column titles general table template with icons
Yearly sales financial summary table
Product features comparison table
Arrows column table design with hand-drawn marker
Table for longer cell descriptions and highlight markers
Stripe column design table with hand-drawn marker
Triangle top ribbon table design with hand-drawn focus brackets
Map and location graphics:
World map with global market sizes over seven continents
Influence regions illustrations with data values
World map infographics template: Europe route
World map infographics template: America route
Business concepts illustrations:
Vision and mission stairs infographics
Umbrella shelter concept flat graphics
Victory stand graphics template
Creative synergy diagram with four paint rollers
Bridge over valley graphics for gap analysis
Four segments bricks bridge with pillars
Bridge the gap company slide
Problem solving visual metaphor key flowchart
3D vertically layered cube diagram for three and four layers
Transparent three-dimensional cube layout for three levels
Root cause analysis tree graphics
Problem analysis tree diagram
Cause and effect fishbone diagram template
Quote template slide
Fully editable in PowerPoint
set of vector shapes fully editable by using built-in PowerPoint tools, including
change the color of all shapes filling and their outline, including icons
adding shadows
changing shape and size, rotating, flipping the object
putting shapes behind or on top of text
See the editing demonstration in
our HowTo Videos
.
Authors
infoDiagram's designer
Contact: here
Slides included in this PowerPoint Presentation:
How To Edit
How to edit text & colors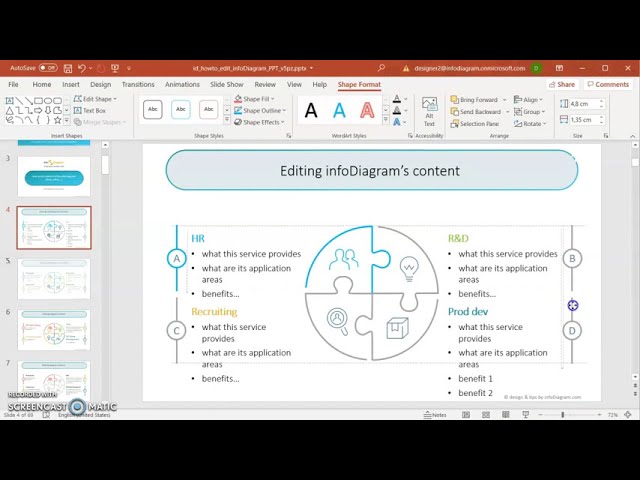 How to expand / shorten diagram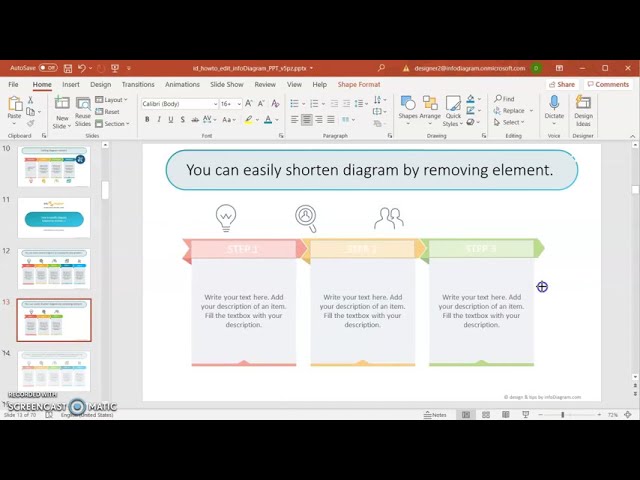 How to Replace Icons in infoDiagram PPT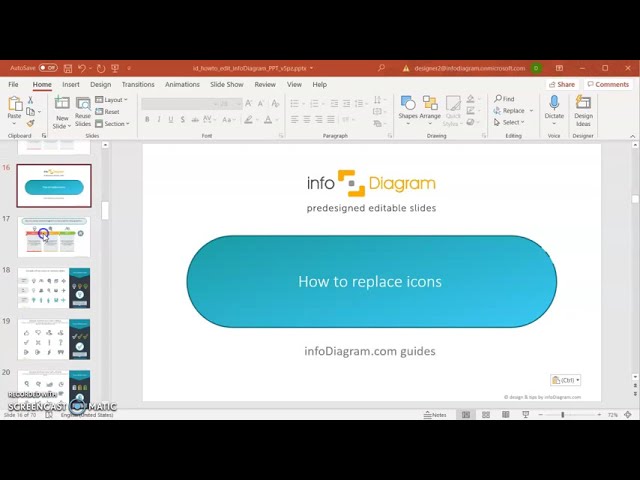 Modern Flat Diagrams - Ultimate Bundle for Visual Presentations (PPT graphics)