Reviews

Usage example

Description

How To Edit
Slides
Description
Looking for the professional and right way to show objectives, target or company goals? If you want to organize the information in a way that is pleasing to the eyes and easy to read, get inspired by our new Target Bullseye and Dart Arrows Graphics.
This Target Bullseye and Goals slide deck contains:
18 diagrams to illustrate targets, company objectives, quarter and yearly goals, timelines, and lists.
Two graphical styles - modern flat style and lighter minimalistic outline style. Use them to create concise and catchy goal diagrams and professional attractive icons for illustrating your ideas with graphics.
15 flat and outline symbols to show various business concepts e.g. Bullseye, Destination, Roadmap, Location, Goal, Objective, Payment, Income, Handshake, Offer, People, Money, Productivity.
Instruction how to modify those diagrams using standard PowerPoint editing tools.
Format: fully editable vector shapes (modify colors of diagrams and icons, resize without quality loss)
What is Target Bullseye diagram?
The bullseye, or bull's-eye, has been called the center of a shooting target. Bullseye and dartboard are perfect metaphors for goals. If you use such diagrams in your presentation, your audience will be on the same page with you and they will consume the information at a quick glance. If you want to save time and need decent graphics, you can easily copy these diagrams into your branded slides. Using Target Bullseye and Dart Arrow graphics you can illustrate the list of goals, quarterly and yearly objectives of a particular department, various timelines, and create contemporary-looking target infographics.
Where can you use the Target Bullseye and Dart Arrow graphics?
Using diagram visualizations will help you declutter the slides and deliver content in a more infographic way rather than wordy.
Create a list of goals using 3-element Arrow and Bullseye Diagram
Express quarter goals with Sales Quota, Client Churn and Customer Satisfaction.
Present 4 goals list with Arrow Diagram with descriptions on a dark background, which will make your slide look professional and attractive
Visualize timelines of 5 and 6 elements with arrow target infographics
Show list of any goals creatively using dartboard illustration and icons
Visualize yearly company goals slide, including e.g. Expand team; Increase productivity; Expand to new countries; Grow profitability; Release products.
Illustrate goals with circular target diagram or archery infographics
Try using those PowerPoint illustrations to present your content visually in an elegant way.
Target Bullseye and Dart Arrow Graphics collection contains pre-designed slides:
List of goals arrow and bullseye diagram with three elements
This quarter goals slide: sales quota, client churn, customer satisfaction
List of four goals arrow diagram with descriptions
Timeline for five elements bullseye diagrams with text boxes
Six elements arrow goals list with target
List of three goals showed with textboxes and icons
Four element goals diagram illustrated with dart and target graphics
Bullseye dart infographics depicted with list of five elements
Yearly company goals slide
Six darts and a target diagram showed with textboxes
Three goals, objectives depicted with dart diagram
List of four elements with descriptions illustrated with darts
Dark background darts infographics for five elements
Goals list of six illustrated with darts infographics
Monocolor darts infographics for six elements depicted with textboxes
Target infographics with arrow for four elements
Circular target diagram for six elements with icons
Archery infographics: list of six elements with descriptions
Dart and target infographics for four ribbons and textbox

All graphics are editable, so you can modify the colors and text. We added also a general icon collection at the end of the presentation deck. Optionally you can also extend the collection by more PPT symbols (see Related Diagrams section).

Fully editable in PowerPoint set of vector shapes fully editable by using built-in PowerPoint tools, including

change the color of all shapes filling and its outline, including icons
adding shadows
changing shape and size, rotating, flipping the object
putting shapes behind or on top of text

See editing demonstration in our HowTo Videos.

Authors

infoDiagram's designer
Contact: here
Slides included in this PowerPoint Presentation:
How To Edit
How to edit text & colors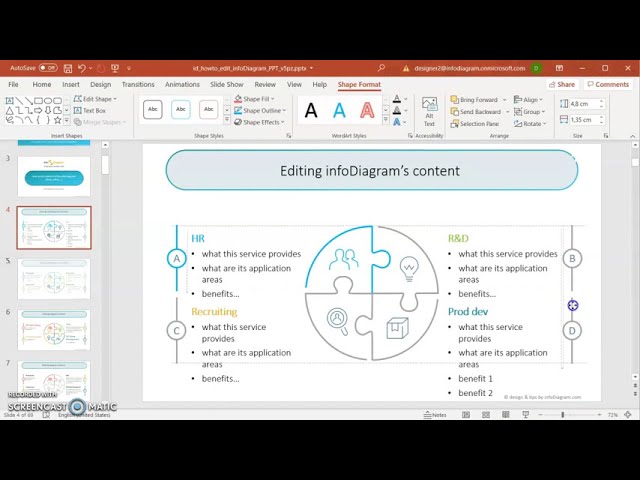 How to expand / shorten diagram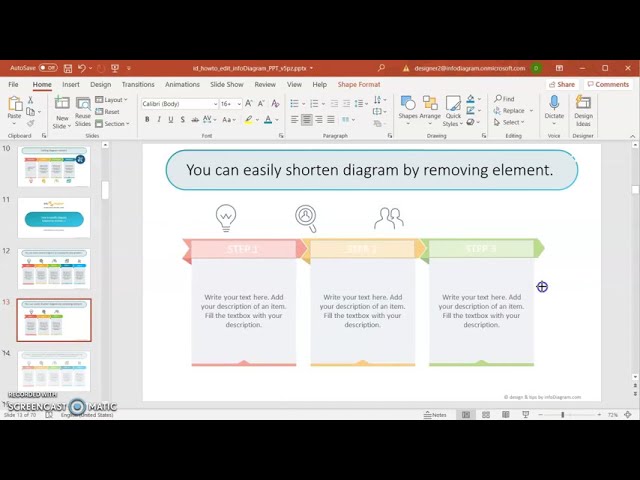 How to Replace Icons in infoDiagram PPT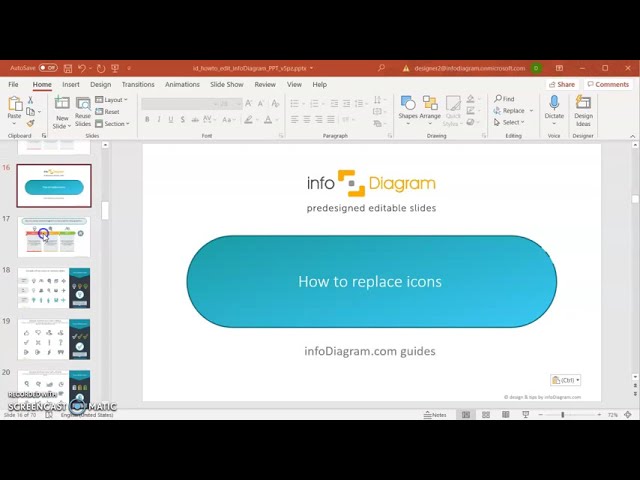 Target Bullseye and Dart Arrows Graphics (PPT Template)