Reviews

Usage example

Description

How To Edit
Slides
Description
Need to measure the effectiveness of your customer funnel? The AARRR framework, also called the pirate funnel, is one of the analysis tools to use for this. It helps you to measure every step of the customer journey and identify leaks and potential loopholes.
This StartUp Metrics Pirate AARRR Funnels collection for PowerPoint contains:
12 diagrams with AARRR funnel infographics and illustrations: definition and customer quote slide template, pirate ship illustration to present the AARRR model, arc and stages diagrams, RARRA growth model, HEART framework diagram.
Modern flat graphical style-contemporary pirate AARRR diagrams and attractive professional icons.
44 symbols designed in two styles - light line and simple flat, that are recognizable even if they are small to show various business concepts e.g. Income, Payment, Transaction, Acquisition, Recommendation, Guidepost, Direction, Comeback, Retention.
Instruction on how to modify those diagrams using standard PowerPoint editing tools
Format: fully editable vector shapes (modify colors of diagrams and icons, resize without quality loss)
What is the AARRR pirate model diagram?
The AARRR framework was introduced by Dave McClure 10 years ago. The model got its name because the acronym AARRR will make you sound like a pirate (say it out loud!). It was originally designed for startups, but it's also proven to be effective within bigger companies and corporations. AARRR stands for Acquisition, Activation, Retention, Referral, and Revenue - five phases a customer goes through in order to achieve growth and each phase has its own set of metrics to focus on. We designed the AARRR pirate diagrams to help you visualize this model so you can get audience interaction and involvement while your speech.
Where can you use the AARRR funnel graphics?
If you want to achieve harmony in slide design, the best idea is to use infographics and visual diagrams. They will help you turn your ideas and words into graphics and save you much time on creating slides.
Start with a startup "pirate metrics" definition, which will help you make sure you are on the same page with your listeners.
Motivate listeners with a powerful customer understanding quote.
Present 5 questions of the AARRR model creatively using pirate ship Illustration.
Turn a simple roadmap slide into a unique personalized one using pirates treasure map illustration.
Create the AARRR customer journey steps diagram with Acquisition, Activation, Retention, Referral and Revenue phases.
Show B2B client journey funnel diagram example with notes aside and elegant outline symbols.
Explain the AARRR pirate metrics with 5 items' colorful arc and stages diagram. Use the funnel diagram to see the conversion process.
Visualize RARRA growth model funnel diagram.
Introduce HEART framework for UX metrics and illustrate it with flower or waterfall diagrams.
Try using those PowerPoint illustrations to present your content visually in an elegant way.
Pirate Metrics - AARRR Funnels collection contains pre-designed slides:
Content of startup pirate metrics presentation
Startup "Pirate Metrics" definition template
Customer understanding quote example
Five questions of AARRR Model illustrated with pirate ship
Pirates treasure map AARRR roadmap diagram
AARRR customer journey showed with steps diagram: acquisition, activation, retention, referral, revenue phases
AARRR pirate metrics for five items arc diagram
Customer care AARRR model stages diagram
AARRR Pirate metrics funnel diagram with acquisition, activation, retention, referral, revenue phases
RARRA growth model funnel diagram
HEART framework diagram template for UX Metrics
All graphics are editable, so you can modify the colors and text. We added also a general icon collection at the end of the presentation deck. Optionally you can also extend the collection by more PPT symbols (see Related Diagrams section).
Fully editable in PowerPoint set of vector shapes fully editable by using built-in PowerPoint tools, including
change the color of all shapes filling and its outline, including icons
adding shadows
changing shape and size, rotating, flipping the object
putting shapes behind or on top of text
See editing demonstration in
our HowTo Videos
.
Authors
infoDiagram's designer
Contact: here
Slides included in this PowerPoint Presentation:
How To Edit
How to edit text & colors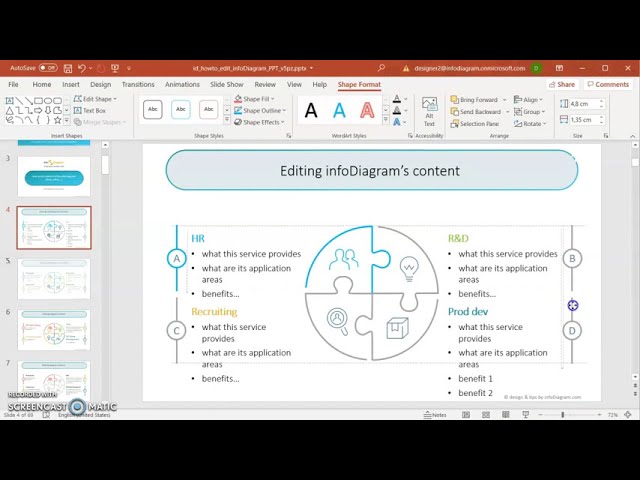 How to expand / shorten diagram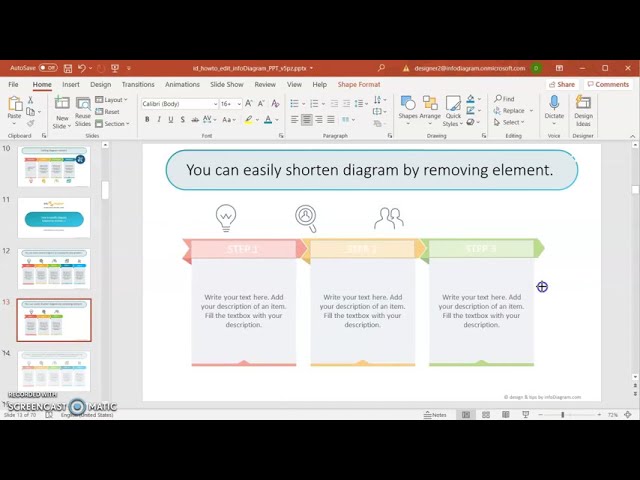 How to Replace Icons in infoDiagram PPT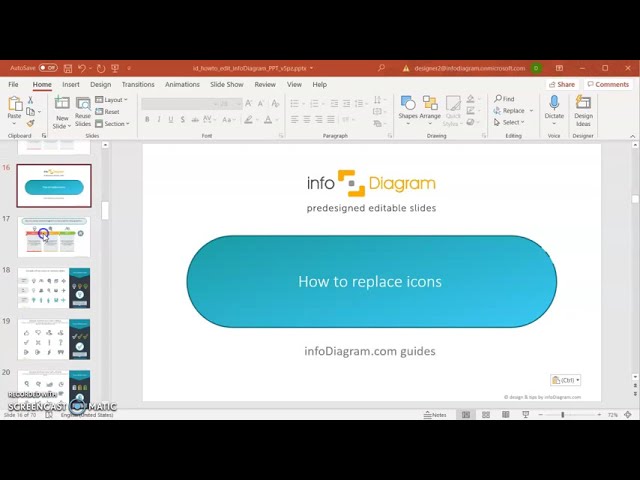 StartUp Metrics Pirate AARRR Funnels (PPT Template)