Reviews

Usage example

Description

How To Edit
Slides
Description
The agile scrum PPT graphics is a universal visuals toolbox with modern outline icons. It's a handy tool for presenters and trainers using an agile framework to explain project roles, duties, and flowchart processes.
This PowerPoint template contains various agile process diagrams and common Scrum artefact symbols that you can use to create a Scrum training presentation or a slide deck for an agile project management meetings.
The PowerPoint Visuals Toolbox covers all essential Scrum elements you may need:
Scrum process loop arrows as an editable thin outline and thicker wide arrows
Symbols for the key Scrum roles such as Scrum Master, Product Owner, DevOp team, Stakeholder, Client
Icons of Scrum Artefacts: Sprint board, Backlog, Impediment log, Burndown Chart, Sprint Goal and Status, Happiness levels, Poker cards, Post-it notes
Scrum pictograms of Daily Meetings, New Sprint Planning, Backlog Grooming, and Retrospective session
All diagrams and icons can be edited & you can change color, resize, add or remove Scrum elements
Content:
Outline PPT Graphics Toolbox for Scrum Methodology – Diagrams and Icon set
The Agile Scrum PPT Template contains:
Table of contents slide
Full Scrum process diagram showing the process of agile product development. The Scrum flowchart represents the process from project vision, backlog list, and development cycles toward final product delivery. This main Scrum visualization contains outline icons of all involved players and events: Project Stakeholder, Product Owner, Daily Stand-up, weekly Sprint planning loop
Another similar full Scrum process flowchart but with thinner outline loop arrows. This diagram is more suitable if the process (loop) is less important than the roles around it.
Matrix diagram of Agile project development including portfolio and team groupings and several horizontal levels: Metrics, Service Levels, Planning level, Team, and Development level, and final Delivery and Maintenance. The matrix can be edited so you can adapt it as needed, e.g. rename, add new levels, or remove them.
Stages flowchart diagram with stages and several Scrum-like loops showing input, and feedback review. It includes also a placeholder for the legend, describing what specific icons mean
Niko-Niko calendar table template for expressing the mood of Scrum team members by adding happiness level icons (smileys or other status icons)
Scrum Framework Development Process Diagram with an illustration of product backlog blocks ordered by task priority
Icon set of Scrum Artefact Icons: Project Backlog, Retrospective symbol, Values, and Finance...
Scrum Loop arrows as PowerPoint vector shapes - thin outline arrow, thick arrow, separate daily scrum loops, and several Scrum loop variations - closed loops, double output loop with secondary exit arrow representing high uncertainty returned tasks.
Visual symbols for all Scrum meeting types such as Backlog Grooming, Retrospective meeting, Daily Stand-up.
Scrum methodology further resources
All Scrum Template graphics can be edited using the PowerPoint tools including:
editing colors of the icon filling and its outline
writing own text content
moving or copying Scrum Loop arrow parts, changing their size, copying to different presentations - your own Powerpoint decks, to MS Word document, Excel or exporting to other tools such as Apple's Keynote, Google Slides, Prezi. You can use any software that can read PPTX XML file format.
Authors
Slides included in this PowerPoint Presentation:
How To Edit
How to edit text & colors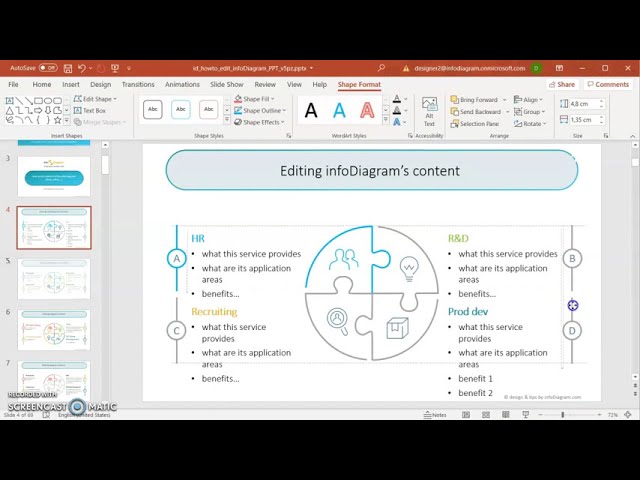 How to expand / shorten diagram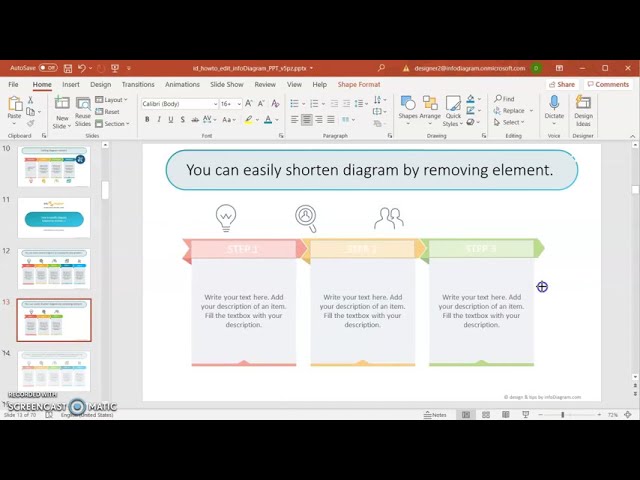 How to Replace Icons in infoDiagram PPT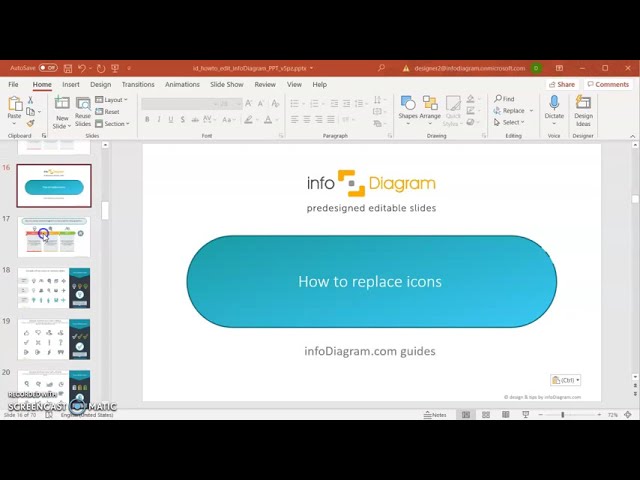 Scrum Outline Presentation Template (PPT diagrams & icons)