Reviews

Usage example

Description

How To Edit
Slides
Description
The Plastic Pollution Presentation can be used when you want to explain plastics pollution and its effects topic, talk about waste awareness, and present action plans. Every day approximately 8 million pieces of plastic find their way into our oceans and become a part of our food chain. If you want to persuade your company to take steps toward a more sustainable economy, use graphics to make data more user-friendly to read and therefore focus your audience's attention on the problem.
We have designed this PPT slide deck to support you in explaining the reasons why we should care about plastic garbage and what businesses and individuals can do to take action against it.
This Plastic Pollution and Waste Infographics collection for PPT contains:
21 diagrams showing the statistics of plastic pollution and global waste, pollution contributors, actions we can take to tackle plastic pollution and reduce plastic in our daily lives, and ways to increase employee engagement in recycling. You can use these graphics to turn your ideas into graphics, creatively present complex solutions connected with the plastic pollution problem, and reach harmony in the slide design.
Modern flat infographics style is eye-catching, readable, and universal to add to any presentation style.
Extensive icon set of 58 outline symbols on global plastic climate themes and plastic pollutants such as Earth, Planet, Globe, Care, Coastal Waste, Polluted Ocean, Nature, Trees, Landfill, Trash Bin, Reusing, Ecology, Eco Solutions, Nature.
Instruction on how to modify those diagrams using standard PowerPoint editing tools
Format: fully editable vector shapes (modify colors of diagrams and icons, resize without quality loss).
What is Plastic Pollution & Waste Infographics?
Plastic pollution has become one of the most urgent environmental issues, as rapidly increasing the production of disposable plastic products impacts the world's ability to deal with them. The numbers are shocking: by 2050 there will be more plastic than fish in the ocean.
We designed a set of Plastic Pollution & Waste Infographics to help you illustrate the effects of plastic pollution if you're working on a climate-related study and need to create readable catchy visuals. You can save time designing the slides as we organized the information in a way that will keep your listeners attentive and aware.
Where you can use Plastic Pollution & Waste Infographics?
Using diagram visualizations while talking about climate-related issues, specifically plastic pollution is a way to decrease the number of slides by cutting the text and increasing the number of visually-attractive infographics. Diagrams will give you the possibility to collate all the data in precise minimum slides.
Start with the explanation of the reasons we should care about plastic junk and support your words with numbers.
Illustrate the number of plastics recycled, incinerated, and accumulated in the environment and the number of involuntary consumed plastic each year.
Create a visual example of the plastic's journey through the ecosystem on cotton buds example.
Show where the plastic we take in comes from and what happens with it after its disposal.
Present the statistics on the pollution problem: the number of plastic entering the world's oceans, estimated minimum and the maximum time taken to decompose on the example of various consumer goods.
Illustrate plastic pollution contributors and average plastic use.
Compare plastic recycling rates around the world.
Visualize actions we can take against plastic junk: Introduce the Refuse, Reuse, Reduce, Recycle prevention concept, waste segregation, ways to decrease plastic in everyday life, and ways to increase employee engagement in recycling.
Try using those PowerPoint illustrations to present your content visually in an elegant way.
Plastic waste slides collection contains pre-designed slides:
Table of content of the plastic waste slide
How much plastic is produced and the results of our utilization of infographics
Plastics recycled in the environment depicted in the data statistics diagram
Plastics journey through ecosystem on cotton buds graphics
How much plastic do we involuntary consume showed with pollution fact
Plastic use sources infographics
Plastic packaging reuse shown with data graphics
Plastic enters the world's oceans illustrated by ocean pollution data chart
Chart presenting the time it takes to decompose plastics
Sea trash type statistics
Bottled water global vs America consumption statistics
Plastic Bottle water sold and recycled statistics iconography
Average plastic consumption infographics comparing the USA and Denmark's yearly plastic bag usage per resident
Plastic recycling rates graphics in the world - US, Europe, China
Plastic pollution prevention graphics - 4R: Refuse, Reuse, Reduce, Recycle
Waste segregation showed with three and five bins template
Ways to reduce plastic shown with list infographics
Ways to increase employee engagement in recycling ideas diagram
Plastics pollution mitigation project actions timeline
All graphics are editable, so you can modify the colors and text. We added also a general icon collection at the end of the presentation deck. Optionally you can also extend the collection by more PPT symbols (see Related Diagrams section).
Further information sources on Climate Change
Fully editable in PowerPoint set of vector shapes fully editable by using built-in PowerPoint tools, including
change the color of all shapes filling and their outline, including icons
adding shadows
changing shape and size, rotating, flipping the object
putting shapes behind or on top of text
Authors
infoDiagram's designer
Contact: here
Slides included in this PowerPoint Presentation:
How To Edit
How to edit text & colors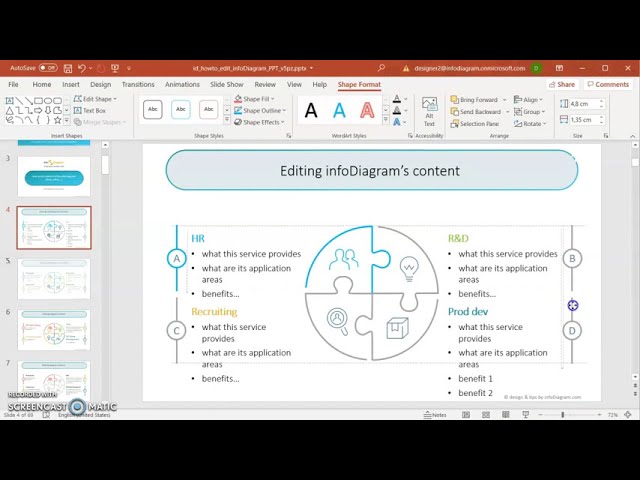 How to expand / shorten diagram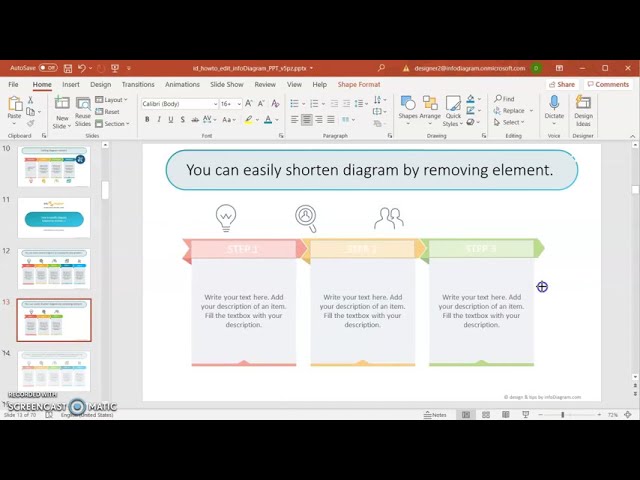 How to Replace Icons in infoDiagram PPT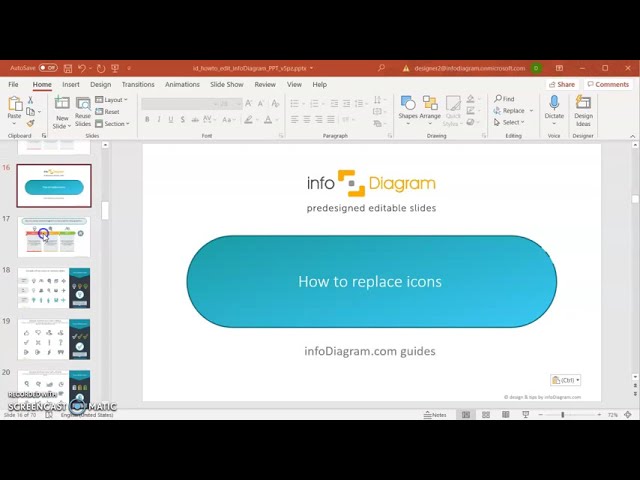 Plastic Pollution & Waste Infographics (PPT Template)