Reviews

Usage example

Description

How To Edit
Slides
Description
Template for presenting market research report, based on market analysis, target group, market size, trends and competitive landscape. The template includes PowerPoint editable diagrams that help to visually present the key market facts.
The market analysis PowerPoint template contains:
28 modern charts and layouts for presenting target market scope, its potential, market evaluation, competitors and actionable steps.
53 business symbols in elegant outlined style, to illustrate concepts such as SWOT analysis elements, product, retail sales, economy, B2B and B2C clients, market sectors, trends, strategic goals and plans
Format: fully editable vector shapes (modify colors of diagrams and icons, resize without quality loss
What should Market analysis presentation cover?
Firstly you need to clearly define what is your target market. Add your own description of industry business vertical, geographical area and end clients (B2B or B2C), etc. Then estimate the market size and its potential. Consider the latest market trends and major factors that drive changes in the market. You can evaluate the market using one of the market research methods such as SWOT analysis, PESTLE or Porter's forces. Consider also what is the current competitive landscape of your market - who are key local and global competitors, who would be new entrants and product substitutes for your offer. At the end, don't forget about summarizing the market report, define key success factors and plan next actionable steps.
Why to use visual diagrams for market analysis your presentation?
Using visual charts on slides helps to illustrate market research information in an engaging way for your auditorium. Each key point can be illustrated by a symbol to create a mental association and be remembered. On last slides you have business icon set that can use, You can also extend the icon collection by getting additional PPT icon set bundles (see Related Diagrams section).
Colors of these diagram shapes and icons are fully editable (all graphics is a vector format). So you can change them to colors of your template or company brand.
Content description
Market analysis diagram contains fully-prepared slides:
Content of market analysis slide deck illustrated with list diagram;
Target market definition with picture background and outline icon;
B2B target client profile card illustrated with outline icons: company size, turnover, background of the target client, customer retention, computerization level, experience, profit, profitability increase, mobile ready, social network use;
B2C target buyer persona profile card: age, gender, status, location, personality, place of work, income, position, experience, background, goals, IT and internet, software, mobile, social networks;
Gender-based target comparison illustrated with four factors bar chart with outline gender icons;
Target world market illustrated with flat map and value circles;
Four types of market characteristics illustrated with a diamond diagram: behavioral, demographic, geographic, psychographic;
Market size section slide with gears background and place for description;
Market share over world map shown with descriptive pie charts;
Market areas sizing by sectors illustrated with colorful circles and outline icons;
TAM, SAM, SOM market potential illustrated with semi-transparent circles diagram and outline icons;
Market trends section shown with picture background and outline icon;
Four market trends list diagram illustrated with icons;
Market factors colorful hexagon list with symbols;
Market drivers list illustrated with colorful outline icons;
Market evaluation section slide with picture background;
Market PESTLE analysis illustrated with honeycombs and description of each factor group: politics, economy, social, technology, legal, environment;
SWOT analysis of the market illustrated with outline graphics and bullet points description;
Porter's four forces model shown with text placeholders and icons;
Competitive landscape section slide with gears background;
Landscape comparison table with outline icons and rows with colored filling;
Competitive landscape description diagram: key local competitors, key global competitors, key substitutes, new entrants;
Competitor market share comparison pie chart with list description;
Key success factors list illustrated with outline graphics;
Next action steps waterfall diagram;
Next actions calendar timeline with list description for each month.
Fully editable in PowerPoint set of vector shapes fully editable by using built-in PowerPoint tools, including
changing color of the icon filling and its outline
adding shadows
changing shape and size, rotating, flipping the object
putting shapes behind or on top of text
See editing demonstration in
our HowTo Videos
.
Authors
infoDiagram's designer
Contact: here
Slides included in this PowerPoint Presentation:
How To Edit
How to edit text & colors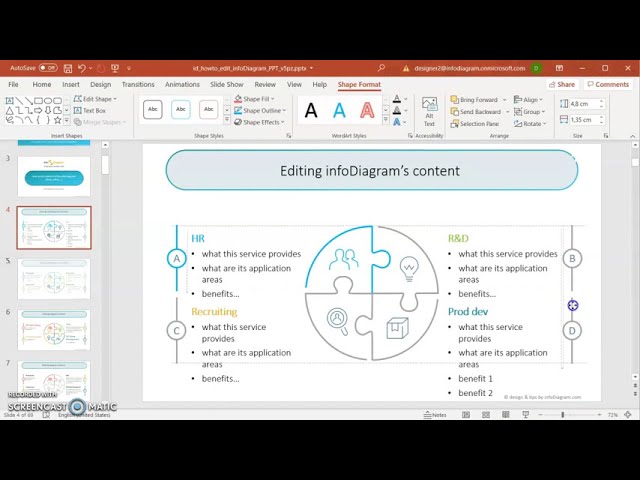 How to expand / shorten diagram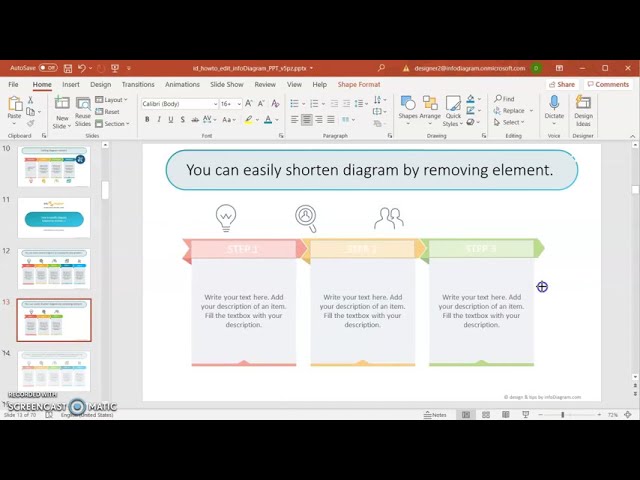 How to Replace Icons in infoDiagram PPT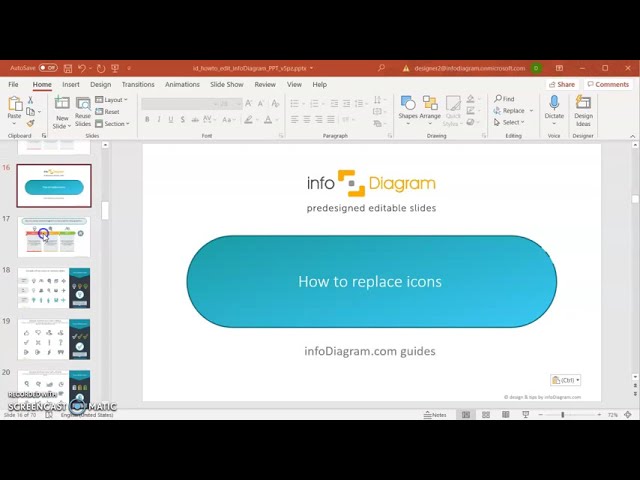 Market Analysis Presentation Diagrams (PPT Template)