Reviews

Usage example

Description

How To Edit
Slides
Description
Light bulb illustration is a popular way to show creativity, idea or innovation in a presentation. We designed set of light bulb diagrams that you can use to present lists or enrich your slides in general.
Get inspired by those bulbs, adapt them to your presentation needs.
This Light Bulb Graphics PowerPoint template contains:
19 editable infographics with various bulb graphics (classical light bulb shape, modern smart energy saving spiral bulb and more)
Three distinctive graphic styles: flat filled graphics, outline graphics, hand-drawn ink graphics. All styles fit any presentation, look professional, are readable and eye-catching
26 business icons to present concepts such as Product, Message, Client, Marketing, Science
Instruction how to modify those graphics using PowerPoint editing tools
Format: fully editable vector shapes (modify colors of diagrams and icons, resize without quality loss)
Light Bulb Graphics: When to use them as a presentation visual?
Light bulbs as visuals are widespread visualization that you can reuse each time you are making a presentation on innovative solutions, explaining new ideas and showcasing creative business concepts.
The Light Bulb diagrams will help you to keep the focus on your company's values, new concepts and ideas. You can present business solution plans, create analysis and provide a basis for developing other aspects of your company using light bulb graphics. The set of Light Bulb diagrams could be useful for business strategic management presentations, board meetings, team gathering, company review presentations.
The Light Bulb diagram contains:
Comparing ideas tables on segmented light bulb graphics background
Creative idea analysis with description boxes illustrated with flat light bulb design
Data-driven Excel charts presenting comparison solutions in numbers
Company strategies diagrams with outline icons and text placeholders
Business concepts and ideas shown with hand-drawn light bulb
Data driven charts with explanation, references shaped with light bulb design
Light bulb concept map for 6 branches illustrated with outline simple graphics
The concept list light bulb design intended to show improving customer experience
Light bulb concept list for four items with colourful outline symbols
Solution timeline with light bulb graphics on different background colors
Business solution plan idea illustrated with CFL spiral light bulb for different design elements

How you can use Light Bulb graphics:

Use light bulb diagrams to replace long texts and avoid bullet lists
Use light bulb shape infographics for presenting business concepts, ideas or strategies, explaining the problem and solutions or business models
Design your presentation as a storytelling - inspiring, informative and persuasive with the help of light bulb infographics
Clarify your main message from the first slide by means of modern light bulb graphics
You don't have to use any special software, just PowerPoint and your creativity
All icons and tables easy to edit, so you can adapt colors to you brand positioning

Consider using those PowerPoint charts to replace text bullets in your slides.

All graphics are editable, so you can modify the colors and text. We added also a general icon collection at the end of the presentation deck. Optionally you can also extend the collection by more PPT symbols (see Related Diagrams section).

Photographs are included in the template. You can easily replace them as well by pictures of your own.

Fully editable in PowerPoint set of vector shapes fully editable by using built-in PowerPoint tools, including

change the color of all shapes filling and its outline, including icons
adding shadows
changing shape and size, rotating, flipping the object
putting shapes behind or on top of text

See editing demonstration in our HowTo Videos.

Authors

infoDiagram's designer
Contact: here
Slides included in this PowerPoint Presentation:
How To Edit
How to edit text & colors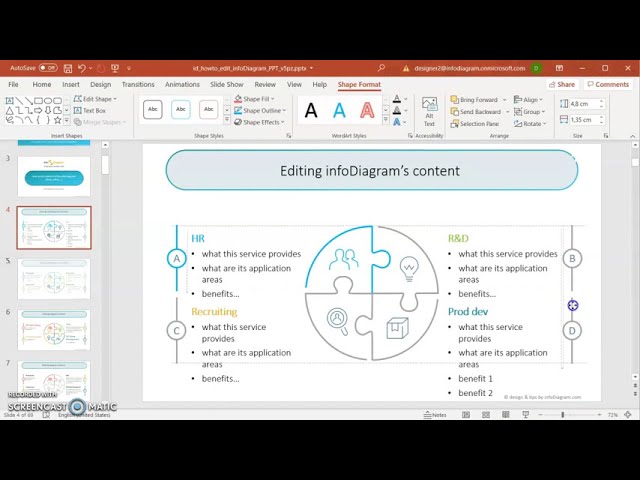 How to expand / shorten diagram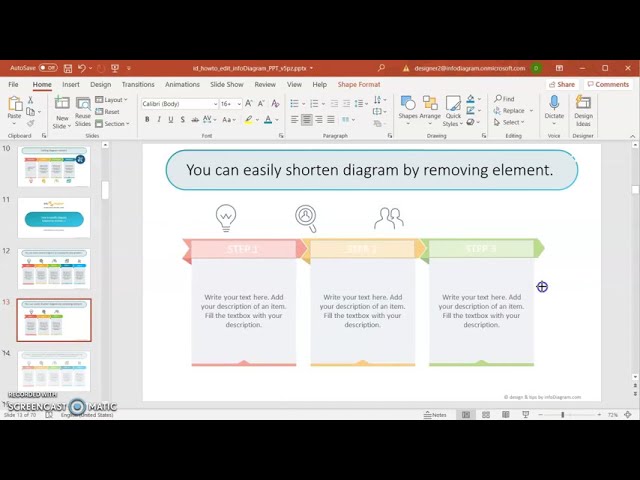 How to Replace Icons in infoDiagram PPT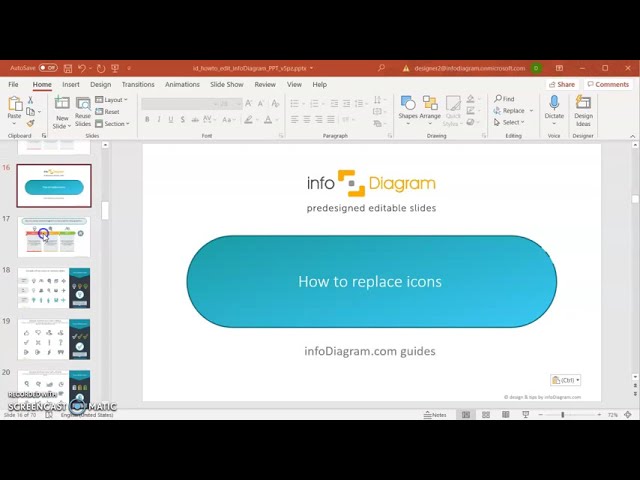 Light Bulb Idea Infographics (PPT Template)