Reviews

Usage example

Description

How To Edit
Slides
Description
Are you presenting instructional design models? Preparing an educational course? Support your presentation by visual way of explaining essential learning theories for instructional training, including ADDIE, SAM or Kirkpatrick frameworks. We've prepared an Instructional Design PowerPoint template of those learning models that you can use to explain various instructional systems development.
This Instructional Design PowerPoint template contains a collection of PPT diagrams with:
11 flowcharts and illustrations to present SAM (Successive Approximation Model), ADDIE Instructional Design Cycle with Analysis, Design, Development, Implementation, Evaluation Stages and Kirkpatrick Levels of Training with Reaction, Learning, Behavior, Results stages.

Universal style diagrams in a modern flat-filling style that fits any visual identity style (feel free to adapt colors to your brand ones).

24 outline symbols and simple flat icons to illustrate instructional design concepts such as Iterative Designing Process, Evaluation Checkmark, Analysis Results, Knowledge or Learning.

Instruction on how to modify those diagrams using standard PowerPoint editing tools.
Format: fully editable vector shapes (modify colors of diagrams and icons, resize without quality loss).
What are Instructional Design Models?
Instructional design models are frameworks that help to organize a training course to ensure an effective education process. Such an approach can be applied to various forms of teaching - eLearning, soft-skills or hard-skills training or school education, as well.
The most famous models include ADDIE, Successive Approximation Model (SAM), and Kirkpatrick or Merrill's Principles of Instruction (MPI).
ADDIE instructional design cycle collection contains pre-designed slides:
ADDIE instructional design cycle diagram
ADDIE method five steps waterfall diagram template
Instructional design theory of five stages graphics
Successive approximation SAM model flowchart
Successive approximation model of teaching three steps diagram
SAM triangle diagram template
Segmented circle diagram with prepare, design and develop steps
Kirkpatrick levels of training model chain diagram
Kirkpatrick training evaluation four levels pyramid diagram
Kirkpatrick reversed levels of training design theory
Kirkpatrick model 3D pyramid diagram
Fully editable in PowerPoint set of vector shapes fully editable by using built-in PowerPoint tools, including
change the color of all shapes filling and their outline, including icons
adding shadows
changing shape and size, rotating, flipping the object
putting shapes behind or on top of text
See the editing demonstration in
our HowTo Videos
.
Authors
infoDiagram's designer
Contact: here
Slides included in this PowerPoint Presentation:
How To Edit
How to edit text & colors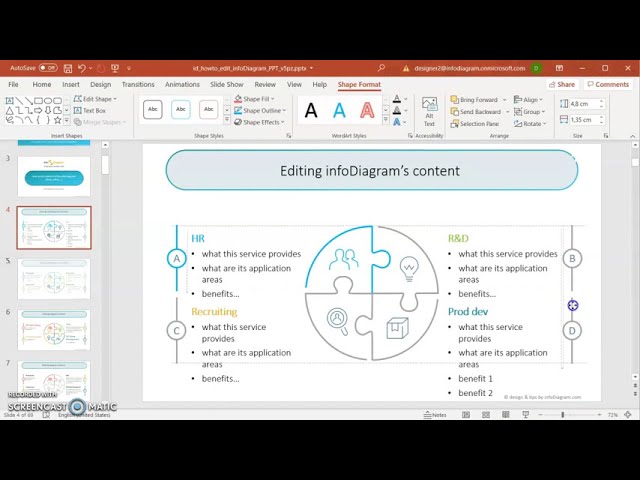 How to expand / shorten diagram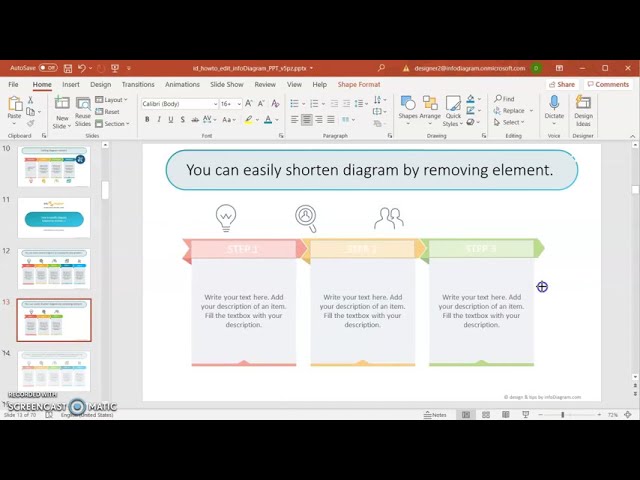 How to Replace Icons in infoDiagram PPT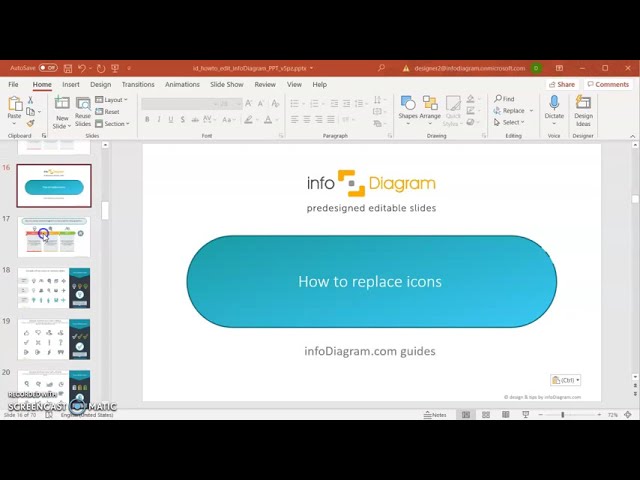 Instructional Design Models ADDIE, SAM diagrams (PPT template)