infoDiagram >
Business Growth & Development Template (PPT diagrams)
Reviews

Usage example

Description

How To Edit
Slides
Description
Creative business growth charts and development stages diagrams for PowerPoint. This template serves as a reusable slide deck for illustrating product or project development stages as well as startup company. The visual metaphor of seed to plant infographics can be adapted to match any number of growth steps.
Reuse these slides to create quickly a modern development timeline in PowerPoint. The slides collection includes set of modern outline and flat icons you can use to represent each growth stage.
You can modify all charts, all are are editable vector shapes. So you can easily add or remove new stages or adapt colors.
The Business Growth Template covers:
12 growth diagrams including seed to tree growth pictures
12 vector icons representing seed idea, development by increasing chart, review, implementation and publishing or shiping product
Format: fully editable vector shapes (modify colors of diagrams and icons, resize without quality loss
What is a Business Growth and Development Template?
You can use this collection to illustrate such complex concept as business growth, show duration of a project tasks and deadlines. The diagram helps you to break big ideas into smaller and simple pieces and make it easier for your audience to understand and retain.
Why use business growth and development diagram as your presentation visuals?
They will help your audience get the sense of what you are gonna talk about much quicker and you don't have to waste precious speech time on explaining what you wanted to show on each slide. Looking at the slides it's clear from the first glance that it's a growth metaphor.
How use Business Growth and Development diagram?
Copy the Business growth and development template and modify it (change dates, move arrows, ...). A few ideas where you can apply those illustrations:
Present all stages of developing concepts: idea, development, review, finished product.
Illustrate business strategy or analysis without clutter on a slide.
Present business growth in a visually engaging way.
Show summary with highlighted keywords.
Illustrate any type of progress or regress on a slide in a creative way.
Content description
Business Growth and Development diagram contains ready-to-use slides:
Development diagram in two versions: stairs diagram with tree graphics, five stages chart.
Idea development timelines illustrated with tree growth diagram in two versions: multicolor and two colors with outline icons.
Four growth stages diagram presented with growing plants and text description.
Progress stages diagram illustrated with growing plants in a pot and text placeholders.
Development timeline presented with growing plant graphics and description to each point.
Development stages slide in two versions: five steps chart with flower growth, four element leafs graphics.
Four- and six items roadmap illustrated with curvy path and text description in three versions: two color, monocolor and colorful.
Fully editable in PowerPoint
set of vector shapes fully editable by using built-in PowerPoint tools, including
changing color of the icon filling and its outline
adding shadows
changing shape and size, rotating, flipping the object
putting shapes behind or on top of text
See editing demonstration in
our HowTo Videos
.
Authors
infoDiagram's designer
Contact: here
Slides included in this PowerPoint Presentation:
How To Edit
How to edit text & colors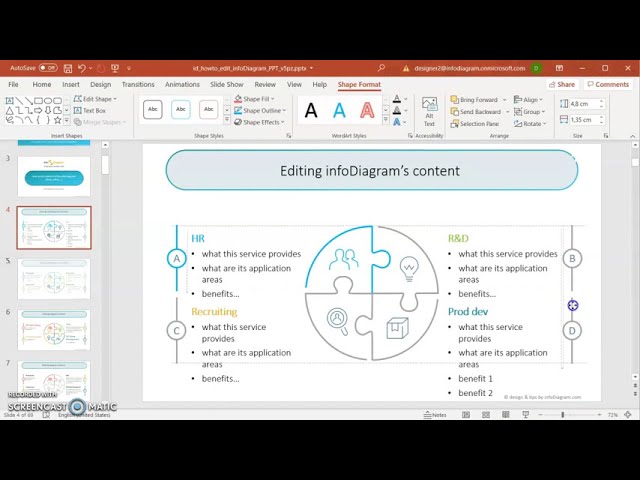 How to expand / shorten diagram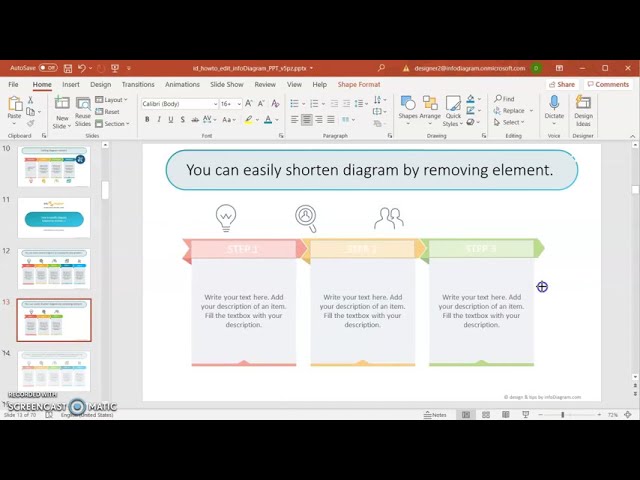 How to Replace Icons in infoDiagram PPT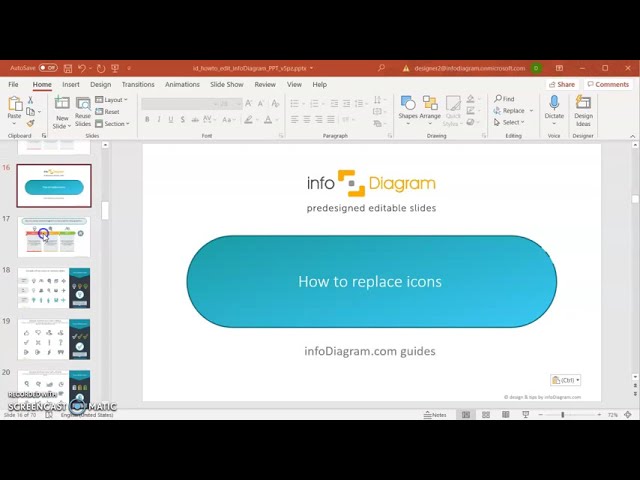 Business Growth & Development Template (PPT diagrams)