Reviews

Usage example

Description

How To Edit
Slides
Description
Do you need to present your e-commerce market characteristics and your online store performance? We will help you to increase your understanding of data through compelling visualizations. Use our creative graphical charts and iconographic graphs, modify numbers and enrich your slides. Take your presentation to the next level!
This Ecommerce PowerPoint template contains visual slides with:
29 infographic slides and 43 country maps to illustrate e-commerce models, analysis methods, and concepts including E-com Market Characteristics Dashboard, Competitors Comparison Template, Customer Journey Process Map, Purchase Funnel Diagram, KPI Analysis Template, Online Store Traffic&Sources Data-Driven Chart, Sales Comparison Slides Templates and more.

This presentation template is designed in a modern flat style. You can use these graphics to create a fluent and impressive presentation and communicate the information in a clear understandable way.

85 outline symbols to show various e-commerce concepts e.g. Delivery, Customer Service, Electronic Devices, Payment Methods, Customer Analytics and other business icons.

Instruction on how to modify those diagrams using standard PowerPoint editing tools.
Format: fully editable vector shapes (modify colors of diagrams and icons, resize without quality loss).
Authors of this E-commerce Analysis Management Presentation
What is an Ecommerce data-driven strategy?
E-commerce is a business model that lets firms and individuals buy and sell products or services over the internet. Data powers most business operations and serves as a source of valuable insights into shoppers' behavior. By collecting, processing, and analyzing data generated by e-com businesses, we can: predict future trends, adapt to customer expectations, boost the online shopping experience, raise conversion, and improve sales and marketing performance.
Why use an eCommerce performance presentation?
With e-retail sales growing at a speedy rate you might need to present your e-commerce strategy, challenges, performance, or metrics. Using appealing visuals for describing online business makes the information clear in the mind of the audience. Give an overview of your internet commerce using our content-ready, professionally designed e-commerce business overview deck. Icons and graphs used in this complete PPT can make your presentation even more impressive.
You can reuse our graphs and charts and tailor them to your needs in order to upgrade your presentation slides. The majority of our charts are Data-Driven Excel Charts, so it is very easy to change the presented values. We also include detailed instructions on how to alter the content, values, colors, and look and feel of the charts.
Where can you use the Ecommerce graphics?
Using infographics and pre-designed slide templates will help you create an impactful, simple, easy-to-make sense and aesthetically pleasing presentation.
Illustrate E-Commerce market characteristics, demographics, and predominant online competitors.
Describe the main reasons for e-shopping using appealing icons.
Show the sources of information stimulating online purchases.
Design Customer Online Journey including purchase and post-purchase steps.
Create an attractive E-Commerce Purchase Funnel from Site Visits, Products Views, Cart Creation, Checkout Process, and Purchase itself.
Illustrate Customer Journey Analytics, using Online Store Traffic Sources and Absolute numbers as well as Cart Abandonment and Conversion Ratios.
Visualize preferred Payments and Delivery Methods.
Create a complex picture of the Return process in E-com Business, presenting the most common reasons and methods for product returns.
Compare your Number of Orders, Items Per Order, and Average Price Per Item with the Total Orders Entry Value.
Visualize Net Revenue Value vs. Orders Entry Value (Gap Analysis) Over Time.
Illustrate your online store analytics such as the share of E-com in Total Business or Online Sales by Category Over Time.
Present E-commerce Challenges and Management including front and back office processes.
Try using those PowerPoint illustrations to present your content visually in an elegant way.
All graphics are editable, so you can modify the colors and text. We also added a general icon collection at the end of the presentation deck. Optionally you can also extend the collection by more PPT symbols (see Related Diagrams section).
Fully editable in PowerPoint set of vector shapes fully editable by using built-in PowerPoint tools, including
change the color of all shapes filling and their outline, including icons
adding shadows
changing shape and size, rotating, flipping the object
putting shapes behind or on top of text
See editing demonstration in
our HowTo Videos
.
Slides included in this PowerPoint Presentation:
How To Edit
How to edit text & colors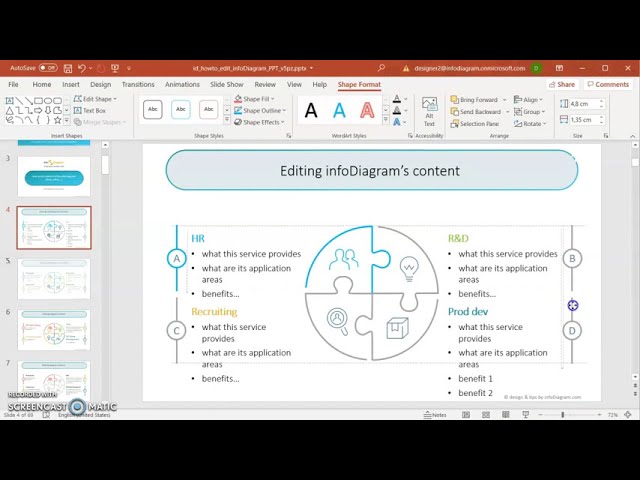 How to expand / shorten diagram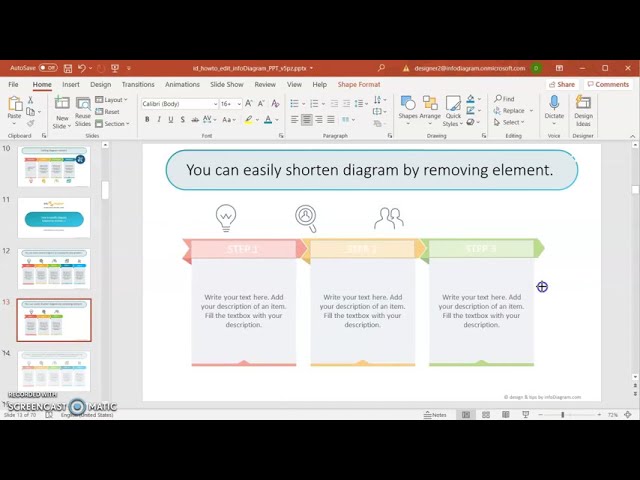 How to Replace Icons in infoDiagram PPT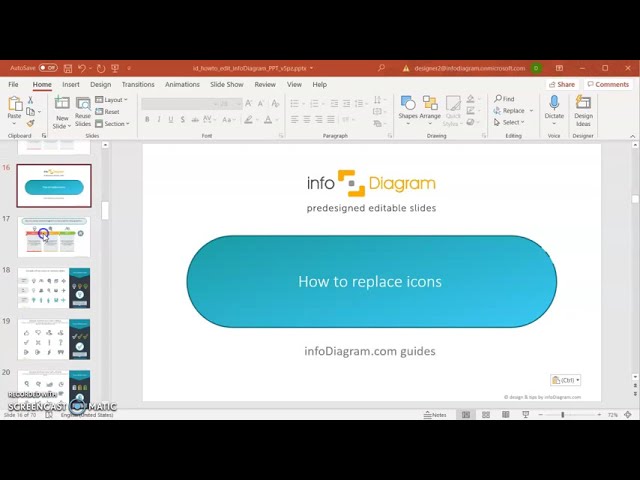 E-commerce Analysis Management Presentation (PPT Template)