Reviews

Usage example

Description

How To Edit
Slides
Description
Are you looking for diagrams to present various company types? It will be much easier to focus the audience's attention on important things if you create professional graphics to support your thoughts. To help you out, we've designed the Company Structure Template that contains diagrams and flowcharts to explain companies' formation process.
This Company Types and Formation Infographics deck contains:
12 diagrams to present company types, private and public sector business entities formation steps, and timeline.
Slides are designed in an attractive flat style. Such graphics will help you present complex ideas creatively and simply.
39 outline and flat symbols to show various business concepts e.g. Company, Corporation, Partnership, Business Idea, Budget, Headquarters, Startup, and Taxes.
Instruction on how to modify those diagrams using standard PowerPoint editing tools.
Format: fully editable vector shapes (modify colors of diagrams and icons, resize without quality loss).
What are the main types of business?
A business entity, a company is a legally registered body performing a business activity under a law of a specific country. Depending on ownership and liabilities, it can be of different types: limited or unlimited, private or public company, partnership, non-profit organization, for example.
If you have to explain various company types and feel a lack of elegant yet simple graphics, these diagrams will help you balance the informative part and will be catchy in the eyes of the panel or audience.
Whether you're preparing a training presentation for your business course, or need to discuss this topic with your team, our graphics will cut down a lot of time for preparing slides and you can focus more on the content.
Where Company Types and Formation infographics can be used?
Create private & public sector business entities classification chart including national economy private and public sector organizations.
Present main company types in the US using a modern flowchart.
Compare US business structures general traits: ownership, liability, and taxes.
Illustrate United Kingdom company types: Partnerships, Companies LTD, PLC, and Sole proprietorship.
Show the comparison of pros and cons in corporation & LLC.
Visualize the business structure details & explanation of every company type.
Design an illustrative diagram to talk about the general steps of company formation.
Explain the timeline of the company formation process: selecting name, type, incorporation papers, tax nr, and bank account.
Company Types Deck contains pre-designed slides:
Content of company types presentation slide
Private and public sector business entities classification chart
USA main company types flowchart
Comparison of US business structures' general traits slide
United kingdom company types flowchart
Corporation and LLC comparison diagram
Sole proprietorship business structure details and explanation slide
Partnership business structure details and explanation graphics
LLC business structure details and explanation slide
Corporation business structure details and explanation graphics
Company formation general steps diagram
Timeline of company formation process
Try using those PowerPoint illustrations to present your content visually in an elegant way.
All graphics are editable, so you can modify the colors and text. We also added a general icon collection at the end of the presentation deck. Optionally you can also extend the collection by more PPT symbols (see Related Diagrams section).
Fully editable in PowerPoint set of vector shapes fully editable by using built-in PowerPoint tools, including
change the color of all shapes filling and its outline, including icons
adding shadows
changing shape and size, rotating, flipping the object
putting shapes behind or on top of text
See the editing demonstration in
our HowTo Videos
.
Authors
infoDiagram's designer
Contact: here
Slides included in this PowerPoint Presentation:
How To Edit
How to edit text & colors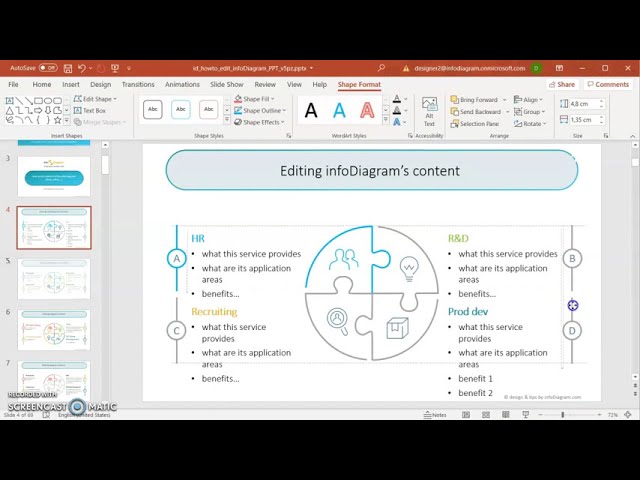 How to expand / shorten diagram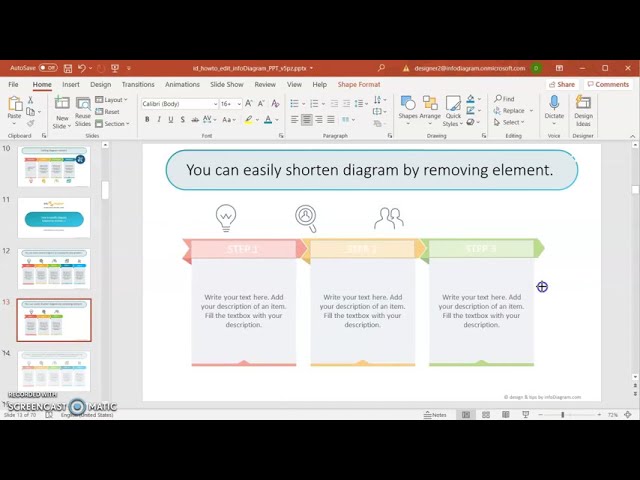 How to Replace Icons in infoDiagram PPT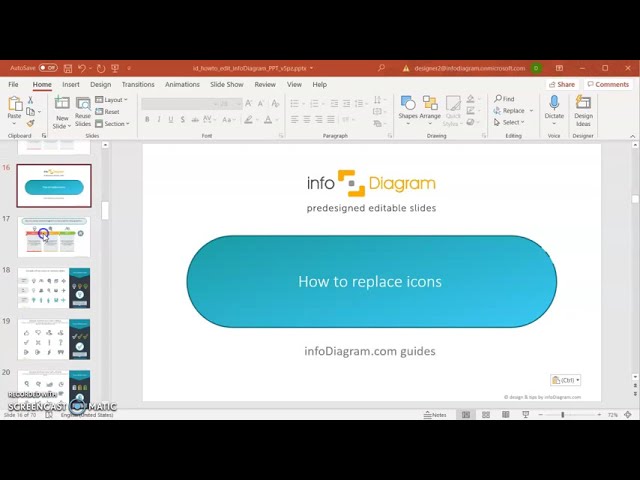 Company Types and Formation Infographics (PPT Template)